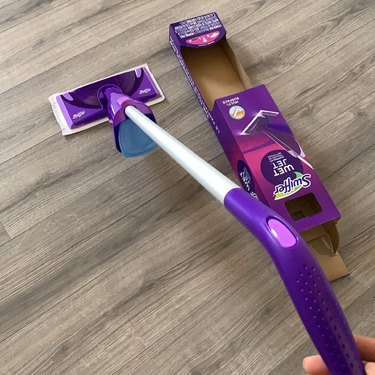 Buying refills is never fun, especially when you forget to repurchase them and end up in a bind. One such product that requires refills is the Swiffer WetJet, but thanks to TikTok, that's no longer an issue. That's right — you will never have to purchase WetJet refills (a two-pack is around $10) ever again.
User @chrissyvroom4 starts her Swiffer WetJet hack off by heating up a mug of water for one to two minutes in the microwave. She then takes the WetJet cleaner bottle and sticks the lid in the water for 30 seconds. At that point, the lid (which is glued shut) should pop right off.
Once your lid is off, you can fill the bottle with your cleaning product of choice. Just make sure you pick the right cleaner for the type of floors you have.
It's that simple. Now, you'll never have to purchase another WetJet refill again — plus, this hack cuts down on plastic waste. It's a win-win.