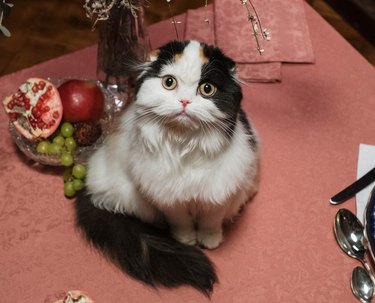 Fancy Feast just released a cookbook so that cat owners can create meals inspired by the food they feed their cats. That's a sentence we never thought we'd type. Created by Fancy Feast chef Amanda Hassner, James Beard Award nominee Jerelle Guy, and actor-turned-baker Josh Snyder, ​Petite Feast: A Cookbook​ features recipes that can be paired with your cat's Fancy Feast Petites.
According to ​Food & Wine​, though the cat food Petites only come in three flavors — grilled chicken, ocean whitefish, and seared salmon — the cookbook has twelve recipes for humans to choose from. There is sage cornbread chicken pot pie, salmon cannellini cakes, whitefish and asparagus with beurre blanc, and more. Each recipe is also color-coded, so you know which Petites to pair with it.
"Mealtime is a bonding experience. We sit at a dining table with our family, we gather with friends," reads the cookbook's intro. "Now Fancy Feast is asking you to extend the invitation to your cat to join you for mealtime as you cook meals inspired by their favorite dishes, but made just for you."
If you're looking for a new way to bond with your cat, look no further than the Fancy Feast cookbook. It's free, can be found online here, and honestly, the recipes inside look delicious. Bon appétit!