How do we love thee, TikTok? Let us count the ways by rounding up our favorite Dollar Tree TikTok hacks that make us want to DIY every day. Seriously — the following creations and transformations will make you want to locate your nearest Dollar Tree ASAP.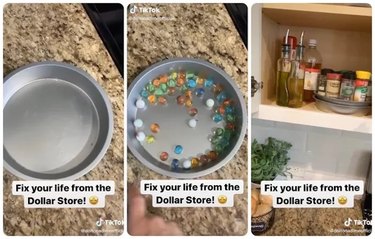 When we discovered that you can DIY a Lazy Susan using Dollar Tree items, thanks to @doitonadimeofficial, our minds were blown. All you need is two round cake pans and a set of marbles. Why did no one tell us this before?
2. A Sunglass Display Case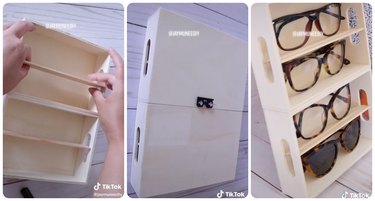 This one truly made us do a double take. User @jaymuneediy discovered that you can make your very own sunglass display case using Dollar Tree trays, rulers, wood glue, and the hardware on the back of a picture frame (also from Dollar Tree).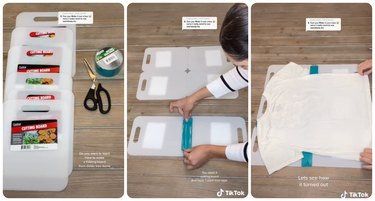 To get that perfect fold every time you're putting away your laundry, @lenniamc created an affordable, DIY folding board using Dollar Tree items. She used six cutting boards and duct tape — that's it!
4. A Renter-Friendly Backsplash
User @blondesigns discovered how to create a Dollar Tree backsplash that's perfect for renters. Start with self-adhesive wall tile, paint the tile and the grout, shellac the tile, and then place it on the wall. It completely transforms a space.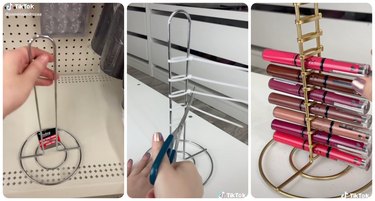 Using a paper towel roll, zip ties, and a can of gold spray paint, @pamelapedrozaa creates the ideal holder for all her lip products.
6. A Fridge Organization System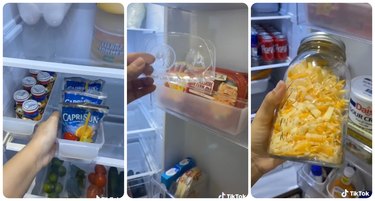 User @adry_dreamsnails was able to transform the inside of her fridge using Dollar Tree storage bins, containers, and more. We are seriously impressed.
---
When Anna Gragert isn't trying to create a groundbreaking third-person bio for herself, she's working as the senior lifestyle editor at Hunker. Her email: anna.gragert@hunker.com
View Work