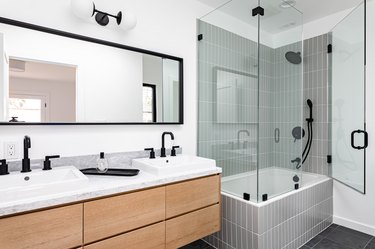 One of the most tedious chores has to be cleaning the shower. Bending over to scrub the tub? No thanks. Trying to make the grout look brand new? We'll pass. However, a new TikTok hack might change our minds about all this shower cleaning business.
User @vaneamaro91 starts off by saying that she's a housekeeper and that this is one of the best cleaning hacks she has to offer. All you need is three materials: a soap-dispensing dish brush set, Dawn dish soap, and vinegar. In terms of the specific dish brush, she picked up the OXO Soap Dispensing Dish Brush Storage Set ($11.99) at Target.
Once you have all your materials, fill the dish brush with the Dawn soap and vinegar. Then, place it in your shower so that once a week, you can scrub down the interior with ease.
Though @vaneamaro91 recommends you do this while showering, you'll want to exercise caution to avoid slipping on the soapy substance. To be extra safe, you can do this when you're not actually in the shower.
For more TikTok home hacks we're loving, click here.