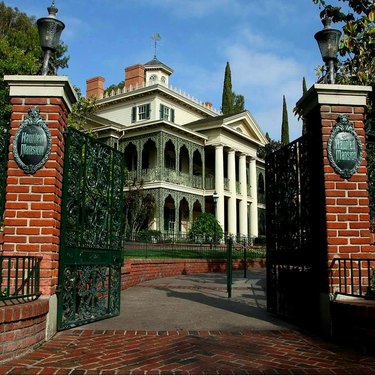 We mere mortals aren't the only ones redecorating for spring. At Disneyland's Haunted Mansion, ghosts have also been in the mood for seasonal change, which is why you'll notice some home improvements next time you pay a visit to the mansion.
Before you even enter the mansion, D23 reports that a few additions have been made to the pet cemetery. Several furry friends who have met their untimely end have been added, along with new plants for us to marvel at before we enter the haunted home.
Inside the mansion, you'll notice a few decor changes — such as new drapery — along with a portrait that has seemingly returned from the dead. The original "April to December" art is now there to greet you before you climb aboard your Doom Buggy and venture into the mansion.
There is also a new cat statue that appears to have one gleaming red eye. According to D23, this feline was inspired by early Haunted Mansion designs in which an eerie cat would accompany guests on their adventure. A cat that actually wants to be near you? Spooky!
You can witness all this and much more when Disneyland Park and Disney California Adventure reopen on April 30. For more information, you can visit the Disneyland website here.