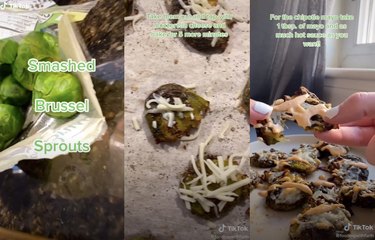 Move over, feta pasta — there's a new TikTok recipe sensation in town!
We've loved using the platform for recipe inspo, constantly uncovering quick and easy gems like "nature's cereal" (ice, coconut water, and fresh fruit — trust us!) and the ever-popular tortilla-fold hack.
So when the newest TikTok craze involved, well, one of the most divisive vegetables out there, we knew we had to try it. Whether you love 'em or hate 'em, everyone's got an opinion about Brussels sprouts (we're firmly in the love 'em camp!). These mini-cabbages are often served pan-fried, grated raw in salads, or boiled (the cooking method that's actually responsible for their well-known pungent odor), but have you ever had them ​smashed​? Everyone loves smashed potatoes, so it makes sense that this hearty brassica would take well to the same treatment.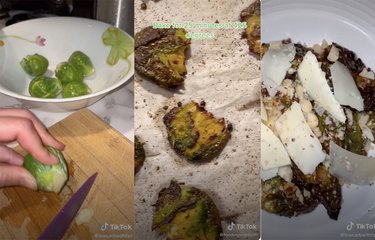 Thanks to food TikTok accounts like @foodingwithfaith and @lowcarbwithfran, we're now in love with these crispy little cabbages. Ready to try them at home? Here's what you need to do:
Cut off the end of each sprout, discarding any wilted outer leaves.
Boil sprouts in heavily salted water for 10 minutes, or until you can easily pierce them with a fork. Alternatively, if you're crunched for time, a few TikTokers have microwaved their sprouts for three minutes.
Once the sprouts are cool and dry, smash them! You can use a heavy frying pan or just a flat-bottomed bowl or mug.
Add olive oil, salt, and pepper. You can also add onion and garlic powder or even some smoked paprika if you like a little spice! Toss well.
Bake at 425 degrees Fahrenheit for 20 minutes, flipping the sprouts halfway through, until they're golden brown.
Top the finished sprouts with chopped, toasted nuts, parmesan cheese, red pepper flakes, or just a squeeze of lemon. You can also add cheese and put them in the oven for an additional five minutes.