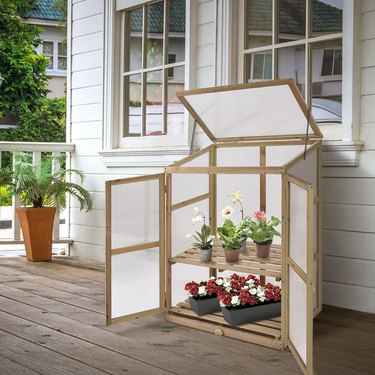 Florals for spring might not be groundbreaking, but you know what is? Portable florals. We're referring to portable greenhouses, which have experienced a 120% increase in searches on Pinterest.
In its press release, Pinterest specifically links to the Costway Cold Frame Portable Greenhouse, which retails for $175.99 at Walmart. Measuring in at 30" x 22.5" x 43", the wooden structure acts as a mini greenhouse where you can safely cultivate your plants.
According to the product description, the greenhouse's polycarbonate glazing boards help keep your plants warm, so you can grow them even when it's cloudy or snowing. Speaking of snow, the item was also built with a solid fir wood frame so it won't collapse due to weather conditions.
If you're looking for a fun, plant-astic project to start during Earth Month, this could be the ticket. To make it more of a DIY venture, you could even try making the greenhouse yourself.
---
When Anna Gragert isn't trying to create a groundbreaking third-person bio for herself, she's working as the senior lifestyle editor at Hunker. Her email: anna.gragert@hunker.com
View Work