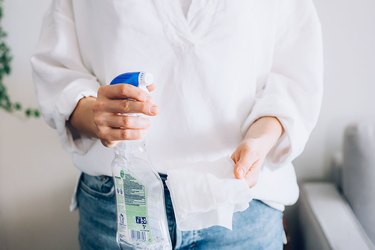 The CDC's updated COVID-19 cleaning and disinfecting guidelines might make you think twice about regularly using disinfectant around the house. As of April 5, the organization is recommending that cleaning alone is enough to remove virus particles on surfaces and that disinfecting is likely not necessary.
"Disinfection to reduce transmission of COVID-19 at home is likely not needed unless someone in your home is sick or if someone who is positive for COVID-19 has been in your home within the last 24 hours," reads the CDC's guidelines. The same goes for indoor-setting schools.
These new guidelines were echoed during a White House briefing, according to ABC News. "Routine cleaning performed effectively with soap or detergent, at least once per day, can substantially reduce virus levels on surfaces," said CDC Director Dr. Rochelle Walensky, who added that people are mainly infected with COVID-19 through person-to-person contact — not via surfaces.
However, though cleaning and disinfecting guidelines have been updated, that doesn't mean you shouldn't be taking other precautions during the pandemic. The CDC specifically advises that you continue to wear masks, regularly wash your hands, and isolate people who have contracted COVID-19. When you're fully vaccinated, you should also follow the CDC's guidelines listed here.