Having to scan a document can feel like a real chore — especially if you don't have a dedicated scanner. Fortunately, there is an iPhone hack that will take all the time, effort, and frustration out of this process.
Thanks to @keyboardshortcuts on TikTok, we now know that you can scan a document on your iPhone and have it upload directly onto your Mac. Simply go to Finder on your Apple computer, control-click anywhere, click "Import or Insert from iPhone or iPad," and then click "Scan Documents." This will open up the camera on your iPhone or iPad.
Using your iPhone or iPad camera, you'll then take a photo of the document you'd like to scan, crop the image if necessary, click "Keep Scan," and then "Save." This should prompt the scan to upload directly into your Finder application.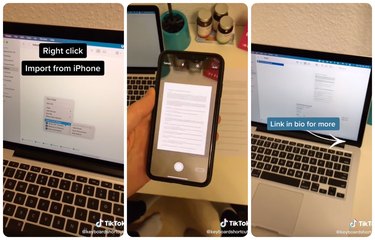 According to Apple, this same process will also work in applications such as Mail, Messages, Notes, Pages 7.2 or later, and more. The brand adds that this method will only work if the following conditions are met:
Your Mac and iOS device have both Wi-Fi and Bluetooth turned on.
Your Mac and iOS device are signed in to iCloud with the same Apple ID that is using two-factor authentication.
Your Mac is using macOS Mojave and your iOS device is using iOS 12.
You can find more information here on Apple's website. Now, scan away!
---
Anna is a Los Angeles-based writer and editor who covers lifestyle and design content for Hunker. She's written for Apartment Therapy, the L.A. Times, Forge, and more. She previously worked as the lifestyle editor at HelloGiggles and deputy editor at So Yummy. Her email: anna.gragert@hunker.com