Composting can seem like a lot of work — especially if you have a tiny kitchen, no yard or outdoor area, and a lack of composting resources in your area. So when we came across Lomi, a home composting device that turns food scraps into dirt, we were intrigued. This could completely change how we compost in the future.
The company Pela, which invented the world's first compostable phone case, designed Lomi to turn food waste into fertilizer in under four hours. It does so in an odorless (thanks to activated charcoal filters), quiet, mess-free (the compost bucket is dishwasher-safe) fashion and only takes up 1.3 feet of space. This makes it perfect for small kitchens that lack space.
Lomi also offers three modes. "Express" dehydrates waste and reduces its volume in under four hours. In 20-24 hours, "Eco" creates nutrient-rich fertilizer out of your food scraps. Lastly, "Bioplastic" breaks down Lomi-certified coffee cups and plastic bags along with Pela phone cases (yes, really).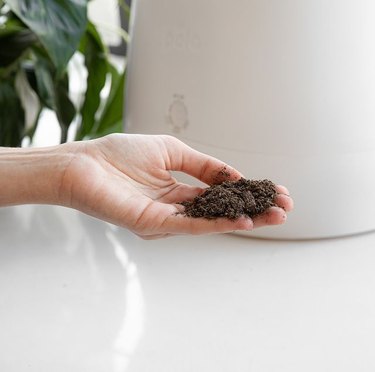 To use Lomi, start by putting your scraps inside the device and select the mode you want. Lomi will then utilize temperature and humidity sensors to pulverize and dehydrate the waste, creating fertilizer. The fertilizer can be put in your garden, used to nourish your houseplants, or simply placed in the trash to lower your ultimate volume of landfill waste.
Though the company hasn't settled on an official price yet, starting on April 20, you can join a waitlist to get Lomi at 40 percent off its retail cost on Indiegogo. The devices will start shipping in October 2021.