After getting evicted from their mansion in Episode 1, ​Schitt's Creek​'s Rose family moved into the Rosebud Motel. From that moment on and for the entirety of the show's six seasons, the hotel became a significant location and the backdrop for many comedic moments. Now, the property is being sold for $1.6 million, and for one lucky buyer, it could serve as a sizable piece of ​Schitt's Creek​ memorabilia.
According to the Colliers listing, the building located at 308399 Hockley Road in Ontario, Canada, is actually called the Hockley Hotel. Built on 6.7 acres of land, the property houses ten rooms, a two-story manager's suite, and a separate cottage. The hotel is currently non-operational, meaning that the new owners would be able to have a clean slate.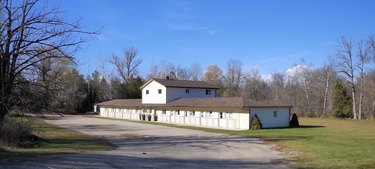 Though the exterior of the motel will look familiar to fans, Forbes notes that the interior scenes were actually filmed elsewhere. Even so, the outside of the building is still iconic enough to serve as a ​Schitt's Creek​ memento.
Even if you're not a fan of the show, the Hockley Hotel is surrounded by nature and the Nottawasaga River, making it a great place for an escape. More information about the property can be discovered here.