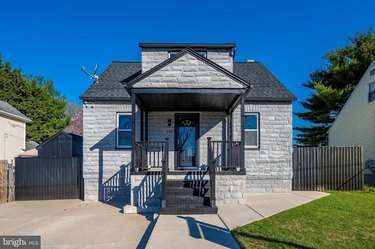 When you come across the property listing for 228 Townsend Ave. in Baltimore, you might think you're looking at your average residence. Heck, even the property description is fairly run-of-the-mill. But when you start to scroll through the listing's images, that's when you'll find yourself doing double-takes and asking a lot of questions.
To put it plainly, the one-bedroom, one-bathroom home looks like it casually belongs to a vampire. Aside from all the football memorabilia near the entryway, the home is filled with black furniture, black and silver accents, horror movie posters, and a whole lot of caskets and crosses.
According to Slate's interview with the real estate agent, this is the toned-down version of the house (it used to have 25 mannequins scattered about).
The mirrored crosses bedroom area also makes quite the statement:
When asked if the homeowner is a vampire, the agent answers, "No, not that I'm aware of." Apparently, he just likes horror movies. If you need any more proof, here's the backyard complete with a fire pit, wet bar, and plenty of signage:
There is also a ... unique mural on the garage:
And you'll even find a bonus living area in the basement, which has an interesting layout and plenty of open space for a Monster Mash:
If you hate garlic, sunlight, or ​Buffy the Vampire Slayer​, this home can be all yours for $225,000. Though, you may have some competition — the real estate agent already has several showings scheduled. More information can be found here.