It's no secret that we love learning more about our personalities. Recently, we used a Japanese color chart to figure out the color of our birthdays and now, we're taking a South Korean Personality Color Test. According to Creative Bloq, this specific test is all the rage on TikTok.
Created by the company Withsome, the Personality Color Test features a soothing Microsoft Paint design. There are a total of 12 questions loosely translated to English and at the end of the quiz, you get assigned a color along with a personality description, personality downsides, the type of person you're attracted to, and the color types you should stay away from.
Here's an example of what that will look like: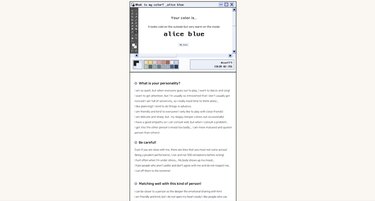 Also, once you're done with your test, if you look at the URL, it will show you a proposed Myers–Briggs type. (For example, mine ends in "INFJ," which is correct!)
Hashtag Hyena reports that this test is based on a True Colors personality profiling system, which was developed by Don Lowry in 1978. It uses combinations of the colors gold, green, blue, and orange to distinguish between the four primary personality types.
So far, we are having a lot of fun with this test. Do you agree with your results?
---
When Anna Gragert isn't trying to create a groundbreaking third-person bio for herself, she's working as the senior lifestyle editor at Hunker. Her email: anna.gragert@hunker.com
View Work