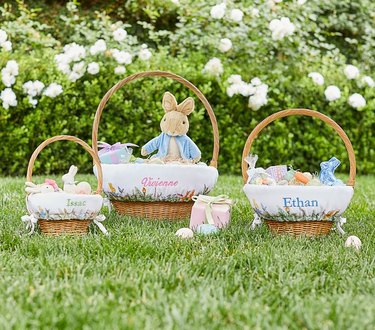 It's that time of year again! For the past few weeks, like clockwork, all we've been able to think about is Easter candy — and it turns out, we're not the only ones. RetailMeNot recently conducted a survey to find out exactly what Easter candies people are yearning for in 2021. Some of the results are pretty surprising.
America's number-one favorite Easter candy is, of course, Reese's Mini Peanut Butter Eggs. No surprise there. However, we weren't expecting the number-two spot to be taken by jelly beans, which feel a bit plain compared to all the other types of Easter candy out there. What about Starburst? Twix? M&M's?!
Here is the entire ranking:
Reese's Mini Peanut Butter Eggs (26 percent)
Jelly beans (24 percent)
Cadbury Eggs (20 percent)
Chocolate bunnies (16 percent)
Peeps (14 percent)
Peeps, sadly, are in last place, which isn't too surprising considering how controversial the marshmallow treat is. Either you love it or you hate it, and based on this survey, most people seem to hate it.
RetailMeNot also figured out that 77 percent of Americans aim to spend no more than $50 on Easter candy. When it comes to spending between $50 and $100, 12 percent of Americans are in this group, and 6 percent plan to spend over $200.
As for us, as long as we can get our hands on some peanut butter eggs, we'll be happy.