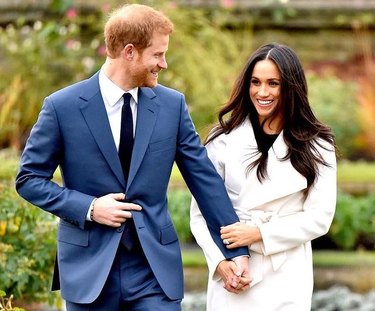 We currently find ourselves craving a Meghan Markle cookbook. Why? Because she baked the most delicious-looking cake for World Central Kitchen (WCK), a nonprofit founded by chef José Andrés. The organization is dedicated to providing food to those in need of assistance after natural disasters.
In honor of Women's History Month, WCK worked with Archewell — Markle and Prince Harry's nonprofit — to provide meals in Chicago. "Since WCK's Covid response began in Chicago, we've served nearly 500,000 meals," the organization wrote on Twitter. "Today, Dorri of the YWCA Metropolitan Chicago — which has distributed 60,000 meals with WCK — and Sarah, co-owner of Fat Shallot restaurant, shared a safely distanced lunch with women picking up meals."
Now, guess who provided dessert for this special lunch? That's right — Meghan Markle. According to WCK, Markle baked a lemon olive oil cake using lemons from her very own garden. The sweet creation honestly looks like something we'd bookmark on Instagram. It was served on a silver cake stand and garnished with powdered sugar and what appears to be sage.
If you're drooling over Markle's cake and would like to make one yourself, give My Darling Vegan's recipe a try. We know what we'll be baking this weekend.