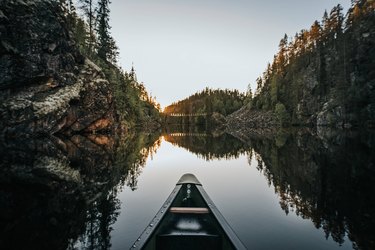 2020 was certainly a ​year​, but that hasn't stopped some countries from having generally happy populations.
For its 2021 World Happiness Report, the Sustainable Development Solutions Network (SDSN), a United Nations organization, investigated the impact of COVID-19 on the quality of people's lives around the world — and evaluated governments' responses to the pandemic.
Finland
Iceland
Denmark
Switzerland
Netherlands
Sweden
Germany
Norway
New Zealand
Austria
The United States didn't make the top 10 but comes in at #14 — which is fairly high given the country's major medical, social, and political struggles in 2020.
So, what's the secret to Finland's happiness?
"Sustainable happiness is our superpower, and it means we tend to take life as it comes — a trait that is helping us through these challenging times," Heli Jimenez, senior director of international marketing at Business Finland, said in a statement. "We appreciate the small things in our daily lives, such as sitting quietly on a bench and staring at the empty lake after a relaxing sauna session or taking a morning dip in the sea before starting the working day."
Sounds like a pretty great approach to life, if you ask us.
You can read the full report and see the complete list here.
---
Stefanie is a New York–based writer and editor. She has served on the editorial staffs of Architectural Digest, ARTnews, and Oyster.com, a TripAdvisor company, before setting out on her own as a freelancer. Her beats include architecture, design, art, travel, science, and history, and her words have appeared in Architectural Digest, Condé Nast Traveler, Popular Science, Mental Floss, Galerie, Jetsetter, and History.com, among others. In another life, she'd be a real estate broker since she loves searching for apartments and homes.