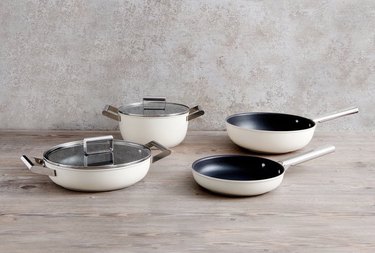 If you're looking to add a touch of retro vibes to your kitchen while still keeping it sleek and modern, SMEG's first cookware collection is where it's at.
Known for its Italian roots, signature style, and advanced technology, the kitchen appliance manufacturer recently announced its first cookware collection in the United States. It's exclusively sold at Nordstrom and was designed in collaboration with Raffaella Mangiarotti and Matteo Bazzicalupo of the Milan-based studio deepdesign.
"During a time when cooking at home has become more prevalent than ever, SMEG is thrilled to deliver even more culinary solutions to our customers," says Wayne Ackerson, National Sales Manager, Small Appliance Division, in a press release. "The kitchen is truly the heart of the home, and that guiding value has always rung true for SMEG."
The new collection also features SMEG's signature retro curves with an aluminum body, non-stick coating, glass lids, and stainless steel handles. Each piece from the luxurious line is dishwater safe and available in three matte colorways: cream, black, and red.
Each piece is sold separately, retailing between $139.99-$239.99.