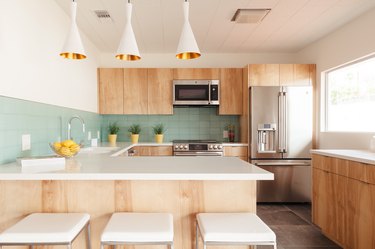 Throughout the pandemic, the real estate market has bounced all over the place. But now that we've just passed the one-year mark of lockdown, we have a ton of data to crunch to figure out some big trends — and that's exactly what real estate website Zillow has done.
One of its recent studies has determined the 10 home features that correlate to higher home sale prices (though the site clearly states that they do not necessarily ​cause​ the value of your home to go up).
Rather unsurprisingly, eight of the 10 features relate to the kitchen or the bathroom — two spaces we've frequented quite a bit as we've stayed indoors during lockdown. The outliers were the phrase "modern farmhouse," which could technically apply to both kitchens and bathrooms, and "dog house" (which might make sense with more people getting dogs?).
Steam oven: 4.9%
Curbless (shower): 3.6%
Modern farmhouse: 3.6%
Pizza oven 3.4%
Heated floor; radiant heat: 3.2%
New appliances: 3.2%
Quartz: 3.2%
Dog house: 3.2%
Smart appliance: 3.0%
Butcher block: 2.7%
---
Stefanie is a New York–based writer and editor. She has served on the editorial staffs of Architectural Digest, ARTnews, and Oyster.com, a TripAdvisor company, before setting out on her own as a freelancer. Her beats include architecture, design, art, travel, science, and history, and her words have appeared in Architectural Digest, Condé Nast Traveler, Popular Science, Mental Floss, Galerie, Jetsetter, and History.com, among others. In another life, she'd be a real estate broker since she loves searching for apartments and homes.