A lot of the time when we watch home tours of famous people, we sit there wistfully sighing over the things we definitely can't afford. But once in a while we get some good ideas for our own spaces (or our future ones).
​Architectural Digest​ recently visited "Hamilton" star Daveed Diggs and actress Emmy Raver-Lampman's home and we're taking lots of notes.
We're always interested in what people do with awkward spaces under the stairs — and this idea was extra thoughtful. Raver-Lampman transformed the nook into a record player listening room for Diggs.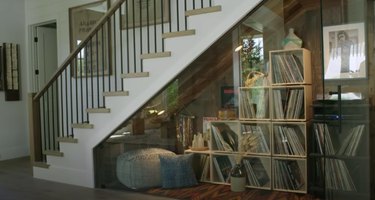 When looking for an ottoman with the right pattern, the couple decided to take a rug from Peru that Diggs's mother gifted them and transform it. They had the ottoman custom wrapped in the rug, so it could shine in the center of their space.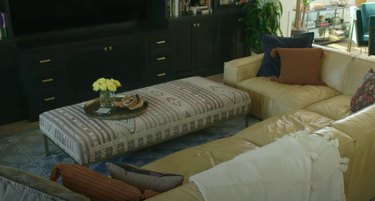 A punch card clock that Diggs found decorates one wall and Raver-Lampman added a collection of punch cards for visitors to sign. Instead of a traditional guest book, the cards add a little visual interest (and an antique vibe).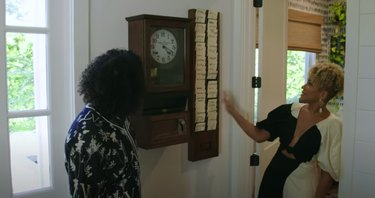 Even celebs love a good quarantine project. Instead of using wallpaper for this room, Raver-Lampman actually painted each little mark by hand for a room where Diggs does a lot of writing. The result is super artsy and stylish.
The couple also framed coffee bags on the wall for a chic addition. They're unique gems from a flea market, with the exception of one that's actually from the couple's fave local coffee shop.
The runner on their stairs is actually made up of a few different rugs to create a unique pattern.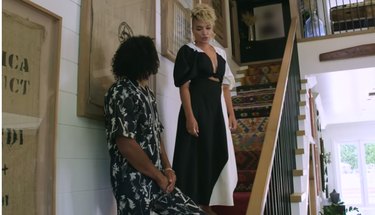 There are lots of other tips to glean, in case you need a new project or ideas for your dream house Pinterest board.