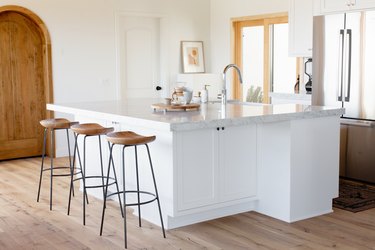 Would you buy a home sight unseen? If your answer is yes, you're in good company. According to a survey by real estate company Zillow, 39% of millennials would feel comfortable buying a home online, while 59% said they'd feel "at least somewhat" comfortable making an offer on a house without actually stepping foot into it.
While we know that the pandemic has changed the real estate game — during lockdown, virtual showings were usually the only type of tour allowed — we're pretty shocked that so many people would be happy to make one of the biggest purchases of their life without physically seeing the space. (Though we do understand why an in-person viewing might not be possible in some circumstances, in which case a virtual tour is a great alternative!)
All that said, millennials are, without a doubt, the online shopping generation, so this does track, to some extent.
What this information indicates is that technology is now a crucial part of the home-buying experience. In the past, sellers might have been able to get away with just posting some photos of the house with the listing, but today they need to pull out all the stops.
According to the Zillow survey, 79% of participants across all age groups would like to see a 3D virtual tour and digital floor plans. When it comes to touring a house, 68% percent would like to do a video walkthrough with a real estate agent, while 68% would also like to be able to unlock a home via an app on their phone to be able to tour it on their own time, sans agent.
While we're totally on board with integrating tech into the house-hunting process, we still think there's nothing quite like walking around a space in person — so please, if possible, inspect your potential home IRL!