Gomi, a sustainable technology brand based in the United Kingdom, wants to change the way you listen to music. Instead of purchasing portable speakers made from materials that may be harmful to the environment, Gomi is creating zero-waste tech products for an eco-friendly experience.
"We are passionate about turning valueless waste into long-living circular products that people will love for generations," reads Gomi's website.
Available to order exclusively on Kickstarter, the Gomi portable speaker is made from 100 plastic bags and is powered by repurposed batteries saved from damaged Lime e-bikes. The company works closely with Lime to take battery packs from bikes that are no longer in use, dismantle the cells, and reuse them in its products.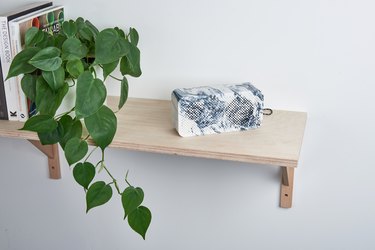 Based in Brighton, U.K., Gomi creates all of its products by hand in-house. By mining plastic waste that would otherwise go into the ocean or landfill, or be burned, the company is repurposing these materials to create sleek accessories for consumers.
The company also works closely with food wholesalers, businesses, and local households in and around Brighton to recycle plastic packaging waste.
Additionally, Gomi's speakers have a battery life of more than 20 hours and use USB-C (fast charging tech that replaces your battery's juice quicker than a regular USB). The speakers are lightweight, weighing just about 28 ounces. They're not only environmentally friendly, but also are designed to have great sound quality with features like a powerful stereo system that includes a bass radiator, a device within the speaker used to deliver a more clean and refined sound.
Ultimately, the company's goal is to work towards a world where products can be infinitely repaired or recycled in order to put an end to unnecessary waste.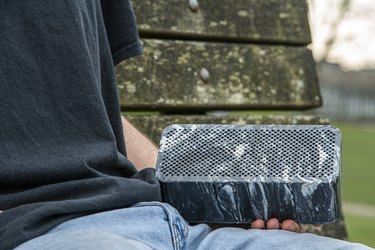 Through its Kickstarter, Gomi is offering a repairs-for-life return service to ensure its speakers are never unnecessarily thrown away. The Gomi Speaker is available in four colors: black and white, ocean, lime green, and birthday cake.
The Kickstarter campaign launched early this year and while the company has created prototypes of the speaker, it won't begin sourcing materials for the production of any speakers sold through the campaign until this summer.
In only 21 days, Gomi's campaign has seen 204 supporters and raised $43,226 and counting — way past its initial pledged goal of $5,545. Gomi estimates that its speakers will be ready for shipment by October, to be delivered by Christmastime.