If there's one small appliance to add to your kitchen, it's the Dash mini waffle maker. It's compact, convenient, and on average costs less than $10. It's perfect for making quick and easy snacks and treats in only a matter of minutes, which is why it's one of our new favorite viral TikTok essentials.
If all the color and waffle shape options don't convince you to get one, all the recipes you can make with the mini waffle maker will have you adding it to your cart ASAP. TikTokers are getting pretty creative by putting the mini waffle makers to the test with everything from red velvet cupcakes to frosted sugar cookies.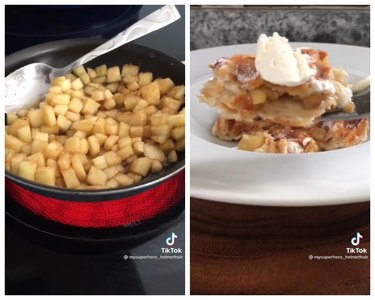 Whip up a no-frills apple pie with only a small apple, brown sugar, cinnamon, a bit of water, and canned biscuit dough. Top it off with a sprinkle of powdered sugar and scoop of ice cream for a mini waffle apple pie in less than 10 minutes.
Make your own version of the McGriddle with the Dash mini waffle maker. All you need for the recipe is shredded cheese, a few eggs, a sausage patty, and a slice of cheese. You can also add bacon, hot sauce, and top off the sandwich with a drizzle of syrup.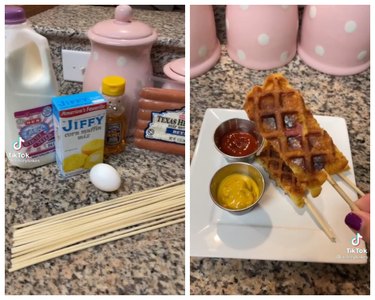 Yes, you can make state fair-worthy corn dogs, too. Add a bit of honey to any cornbread mix and you'll have a slightly sweet and savory snack ready in no time.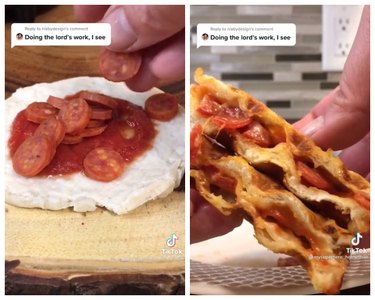 Switch up your idea of a personal pizza with this mini waffle pizza recipe. This recipe uses mini pepperonis, sauce, and shredded cheese, but you can play around with ingredients to make a delicious mini pizza with the filling of your choice.