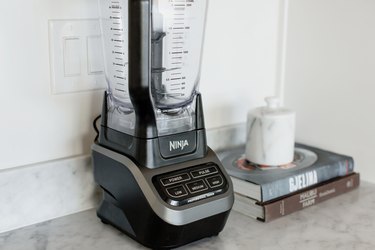 Well, this is embarrassing. Thanks to a viral TikTok, we've only ​just​ discovered the easiest way to clean a blender — and it's so obvious it hurts.
If you don't have a dishwasher, washing a blender by hand can be an absolute drag. But TikTok user Jessica Nies (@princessporcupine425) posted a video to the social media app demonstrating her so-easy-anyone-can-do-it technique, and there's no dishwasher required.
Yep, that's right. All you have to do is put some water and dish soap in your blender, then run it.
Some savvy commenters have been in on the "hack" forever, pointing out that some blenders actually put this cleaning method in their instruction manual. But given that the viral video has been liked more than 250,000 times, it's safe to say that plenty of us have been living in the dark.
Now, please excuse us while we go make smoothies for the rest of the day.
---
Stefanie is a New York–based writer and editor. She has served on the editorial staffs of Architectural Digest, ARTnews, and Oyster.com, a TripAdvisor company, before setting out on her own as a freelancer. Her beats include architecture, design, art, travel, science, and history, and her words have appeared in Architectural Digest, Condé Nast Traveler, Popular Science, Mental Floss, Galerie, Jetsetter, and History.com, among others. In another life, she'd be a real estate broker since she loves searching for apartments and homes.