If you've ever dreamed of living in a fairytale castle, well, those are a little tricky to come by. But the next best thing has just hit the market.
Located in the Hollywood Hills, this picture-perfect home built in 1927 was designed by architect and set designer Roland E. Hill, famous for creating the Sleeping Beauty Castle at Disneyland. (He also served as an advisor to Disney animators, specifically regarding castles.)
Designed in the storybook style — a popular aesthetic in the 1920s and '30s — the house is a cross between a quaint cottage and a classic castle, with pastel-hued shingles on the roof and a turret out back.
Inside, the four-bedroom, three-bathroom home continues with the whimsical vibes, thanks to details like pointed archways and a living room with a beamed cathedral ceiling and a large stone fireplace. But don't worry — the home has standard modern amenities like air conditioning and recessed lighting.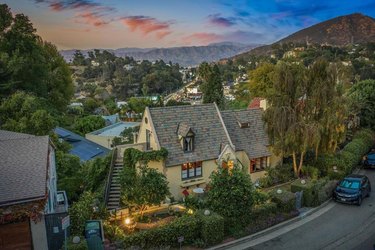 Placed on the market at $2.5 million, this house has a castle-size price tag for a cottage-size footprint (well, size might be relative — it's 2,626 square feet). But that said, it ​is​ in the upscale neighborhood of Hollywood Hills — plus, it has a pool and a guesthouse.
---
Stefanie is a New York–based writer and editor. She has served on the editorial staffs of Architectural Digest, ARTnews, and Oyster.com, a TripAdvisor company, before setting out on her own as a freelancer. Her beats include architecture, design, art, travel, science, and history, and her words have appeared in Architectural Digest, Condé Nast Traveler, Popular Science, Mental Floss, Galerie, Jetsetter, and History.com, among others. In another life, she'd be a real estate broker since she loves searching for apartments and homes.