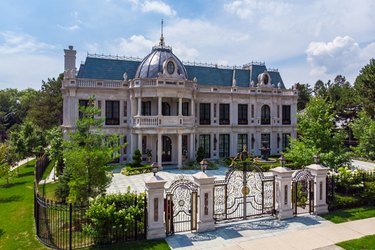 If your favorite season is "awards" and you don't skate through life — but walk, in really nice shoes — we've found the home for you. For $14.98 million, you can now own the 24,000-square-foot Toronto mansion that belonged to the Rose family on ​Schitt's Creek​ (only in Episode 1, pre-Rosebud Motel, of course).
Featuring 12 bedrooms and 16 bathrooms within three stories, ​Apartment Therapy​ reports that even though the mansion was built in 2012, it was designed in a French Chateau style to resemble the Palace of Versailles. That would explain the marble staircases, crystal chandeliers, floor-to-ceiling windows, balustrades, fireplaces, limestone carvings, and Sistine Chapel-inspired frescoes.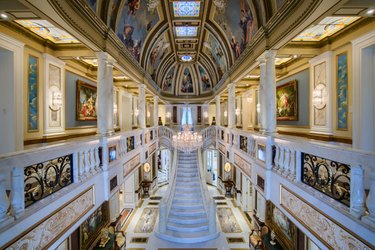 As a finishing touch, on the mansion's second floor balcony, "La Belle Mansion" (aka "The Beautiful Mansion") is carved into the exterior. Just so everyone living in Toronto's St. Andrew-Windfields neighborhood is clear.
Though the mansion was inspired by a different century, it still has all the modern touches David, Alexis, Moira, and Johnny would want. There is a home theatre that seats eight people, a billiard room, a giant kitchen, a fitness room, several sitting areas, an indoor swimming pool, and a sauna.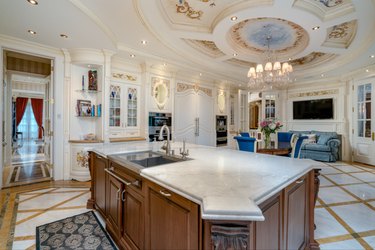 There is also an entire banquet hall filled with blue light. It is the ideal place for a performance of "A Little Bit Alexis."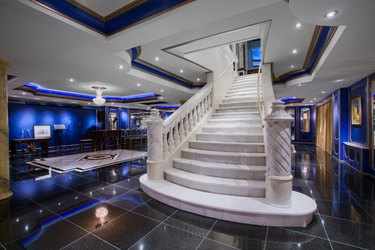 If you're interested in living la vie en Rose, the 30 Fifeshire Rd. mansion is being represented by Khoren Mardoyan of Homelife/Vision Realty and more information can be found here.