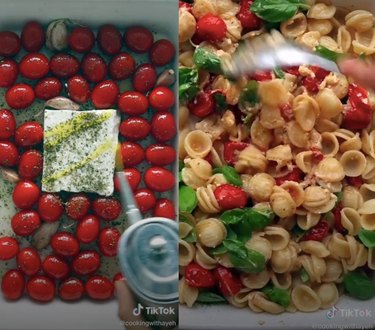 Pasta, the great comfort food, works with practically anything. And when you find a really delicious recipe, it's hard not to share with others.
The latest TikTok food trend combines pasta with ​an entire​ block of feta cheese in a baked creation that makes us immediately hungry. The baked feta pasta uses simple ingredients: cherry tomatoes, pasta, feta cheese, garlic, basil, or whatever seasoning you prefer. You basically mix up the tomatoes with olive oil, and anything else you want to add, drop the cheese in the middle and stick it in the oven. Then, you mix everything up and add your pasta. It's super straightforward.
And it's a global sensation, too. TikTok user @feelgoodfoodie says the grocery stores in Finland ran out of feta cheese because people loved it so much.
"It's creamy, sweet, and salty in every bite," TikTok user @cookingwithayeh says in a video tutorial. If you're a garlic lover, you'll agree with her excitement over the roasted garlic, too.
"It's genius. But dare I say, not perfect?" ​Delish​ Food Director Lauren Miyashiro declares after trying out the dish at home. Miyashiro's recipe suggests adding lemon zest to really bring it all together.
With even more time indoors, we're grateful for any recipe inspiration, TBH.
---
Eva is a Los Angeles-based writer who covers trends, news, and makers for Hunker. Her writing has been featured in the Los Angeles Times, The Guardian, Bustle, KCET and more. She is a proud bookworm and organizes her books by color.