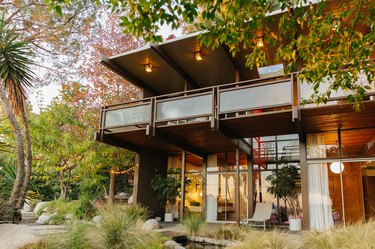 After college, it's not altogether uncommon for students to move back home with their parents as they find their footing in the professional world. But moving back in with mom and dad in the second half of your 20s or the first half of your 30s — well, that could be perceived as a failure. Until now.
Thanks to the pandemic, many millennials are relinquishing their rentals and moving back home to save money. In this economic climate, it's totally understandable. And as it turns out, there's a big silver lining. Young adults who move back in with their parents can actually save up for a down payment on a house in less than a year, purely based on the amount of money they're saving on rent.
Realtor.com has released a report detailing just how long someone would have to live rent-free (that is, with parents) in 20 major metropolitan cities across the United States to save up for a 5% down payment on a house. The range is between 11 and 22 months, depending on a city's housing market. And when you consider that you could own a house within two years, moving home doesn't seem so bad after all.
"The pandemic changed how we think about being a young adult and moving back in with your family. It's not just a failure to launch. So many people are now ​choosing​ to do it," Realtor.com Chief Economist Danielle Hale said in a statement. "They might be able to move into homeownership sooner than they would — or they may be able to put down a bigger down payment."
In order to calculate the length of time needed to save up for a 5% down payment, Realtor.com compared the median monthly rent to the median home price in specific metropolitan areas. So in St. Louis, for example, the median monthly rent is $1,035, while the median home price is $232,000. By moving back home and saving the money formerly spent on rent, a young adult could save up the $11,600 needed for a down payment in just 11 months. Of course, in some cities like Los Angeles, house prices are a lot more expensive — it would take you 22 months to save up for a down payment there.
Atlanta, GA: 13 months to save $17,500
Boston, MA: 15 months to save $32,450
Chicago, IL: 11 months to save $16,350
Dallas, TX: 16 months to save $17,700
Denver, CO: 18 months to save $26,650
Detroit, MI: 13 months to save $12,600
Houston, TX: 16 months to save $16,500
Los Angeles, CA: 22 months to save $49,950
Miami, FL: 12 months to save $20,450
Minneapolis, MN: 13 months to save $17,200
New York, NY: 13 months to save $31,350
Philadelphia, PA: 11 months to save $16,350
Phoenix, AZ: 17 months to save $20,650
Riverside, CA: 15 months to save $23,750
San Diego, CA: 20 months to save $39,850
San Francisco, CA: 21 months to save $49,750
Seattle, WA: 19 months to save $31,400
St. Louis, MO: 11 months to save $11,600
Tampa, FL: 12 months to save $15,000
Washington, D.C.: 14 months to save $24,850