This post contains major spoilers
So, if you're unfamiliar with Netflix's ​Blown Away​, it's a reality glass blowing competition show. The premise is really genius and entrancing — 10 glassblowers compete for "Best in Blow" with challenges that stretch their technical and creative skills, anything from crafting glass robots to concepting pieces that deal with climate change. The winner gets a handsome $60k cash prize and an artist's residency at The Corning Museum of Glass.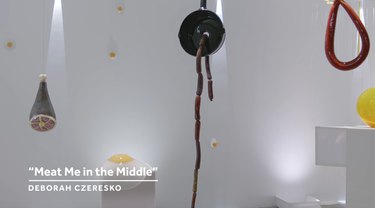 Last year's winner was lauded for breaking barriers: Deborah Czeresko was a woman (the majority of glassblowers are men) and her final installation, "Meat Me in the Middle," was a pop art commentary on feminism, especially as it functions within the glass industry.
The show recently dropped its second season, and we were SO EXCITED. Until, that is, we watched through the entire thing and were left with a feeling that wasn't just icky ... it was upsetting.
First, the lack of diversity. The show's first season was a truly poor showing of representation, with two people of color and five white men. The second season showed ​zero​ improvement on this front, again putting forth the exact same demographics. And like many other viewers, I was pretty shocked when, in the third episode, the only Black contestant, Jason, was eliminated, especially when his white, male competitor fashioned a creation that didn't even ​remotely​ adhere to the assignment.
The finale came down to a man and a woman: Elliot, a British glass maker known for his cartoon-y designs; and Cat, whose work tended to focus on her battle with a genetic disorder in which she'll eventually lose her eyesight. To choose the winner, the judges consider the contestants' body of work on the show, which they described as "neck and neck."
For his last project, Elliot constructed an installation of oversized screws and hammers: "I hope [the judges] see the nervous energy. I wanted it to be a little bit scary and a little bit like it's all going going to come crumbling down. It's an emotional response to the whole experience."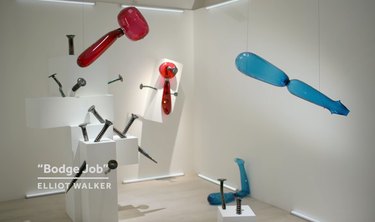 Cat's installation was a study on mental health, an exhibit that asked viewers to "step into her mind," with water-filled bulbs printed with ink-like blots and floating orbs of color. "I wanted everyone to be able to talk about mental health in a way that's not scary," she explained.
In the end, Elliot won, and while art is subjective, it just kind of felt like the show was stolen from Cat, who consistently put emotion and seriousness into her work, whereas Elliot was sometimes criticized for being flat and impersonal. Especially with their final exhibitions, Elliot's seemed to lack depth and sincerity.
Elliot earning the top honor honestly felt like the producers didn't want to give the win to a woman for a second time, as if awarding a female with the honor was too predictable or repetitive. It just felt particularly stinging as Cat was continually set up as the underdog who truly needed to take home the title, having never gained any recognition in the field, and losing a battle against blindness that will eventually prohibit her from blowing glass at all.
And I will leave it at that.
So, who do you think deserved to win?
---
Leonora Epstein is Hunker's Senior Director of Content. She has previously served as Executive Editor at HelloGiggles and as BuzzFeed's Deputy Editorial Director. She is the co-author of "X vs. Y: A Culture War, a Love Story" (Abrams, 2014). Feel free to reach out at leonora@hunker.com.
View Work