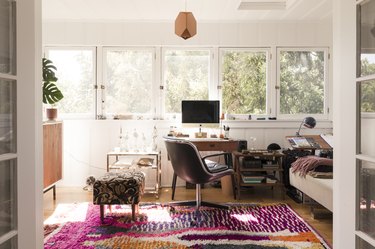 Despite the COVID-19 vaccine rolling out around the country, it's safe to say it'll still be some time before the work force returns to the office — if it returns at all. (Some companies like Twitter have announced a permanent transition to optional remote work for employees who want to WFH for good.)
In either case, for now it's all about that remote work life, which means there's no better time to move to a totally different city or town to spice things up a little bit — or to find a better quality of life with a lower cost of living.
If you're not entirely sure where to go, ​Money​ has you covered. The publication has released a list of the top 10 places to live for a WFH life. The website "analyzed 157,000 data points across nearly 2,000 cities and towns in the U.S." and factored in metrics like safety, cost of living, proximity of housing to parks, and, perhaps most importantly, access to fast internet. Check out the full list below.
Reston, Virginia
Lower Merion, Pennsylvania
Naperville, Illinois
Ann Arbor, Michigan
Roseville, California
Parker, Colorado
Cedar Park, Texas
Portland, Oregon
Greenville, South Carolina
Tewksbury, Massachusetts
Do you plan on moving any time soon?