President Joe Biden has officially moved into the White House and there are photos of the redecorated Oval Office to prove it. ​The Washington Post​ was given an exclusive look at this space and even at a glance, you can see that quite a bit was changed during the presidential transition.
President Biden replaced a portrait of President Andrew Jackson — who is responsible for the Trail of Tears — with a painting of Founding Father Benjamin Franklin. Above the fireplace and across from the Resolute Desk, you will also see a portrait of President Franklin D. Roosevelt surrounded by smaller paintings of Presidents George Washington, Abraham Lincoln, and Thomas Jefferson, along with a painting of Alexander Hamilton, the first Secretary of the Treasury.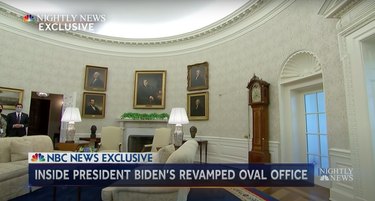 If you know your American history, you know that Jefferson and Hamilton often disagreed with each other. Of the decision to pair their portraits together, Biden's office told ​The Washington Post​ that it is meant to represent "how differences of opinion, expressed within the guardrails of the Republic, are essential to democracy."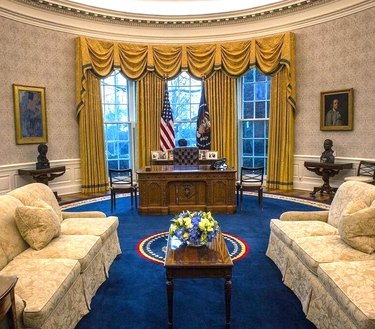 Within Biden's new office, you'll find the 1917 oil painting "Avenue in the Rain" by artist Childe Hassam and busts of Martin Luther King Jr., Rosa Parks, Eleanor Roosevelt, President Harry Truman, and Robert F. Kennedy, the 64th U.S. Attorney General. On Biden's bookshelf, there is a moon rock on loan from NASA and a sculpture of an Indigenous rider on horseback — which previously belonged to Senator Daniel K. Inouye, the first Japanese American elected to both the U.S. Senate and House of Representatives — by Allan Houser of the Chiricahua Apache tribe.
Though he removed the button that summoned a butler with a Diet Coke, Biden did keep the gold drapes that surround the Resolute Desk. Behind his desk chair, there is also a table featuring family photos and a bust of Latinx civil rights activist and labor leader Cesar Chavez.
Ashley Williams, deputy director of Oval Office operations, told ​The Washington Post​ that "it was important for President Biden to walk into an Oval that looked like America and started to show the landscape of who he is going to be as president."