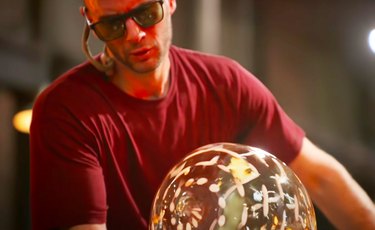 Need to escape the world? How about spending the weekend watching people excel in the fine art of glass blowing?
The first season of Netflix's ​Blown Away​ managed to both stress us out and absolutely delight us — and now it's back. The premise: A group of glass blowing pros from around the world gather in one giant warehouse space where they all hope to bring their best (SUPER fragile) creations to life. It gets really hot in there, of course — and the pressure is even more intense.
In the first season, the competitors made wine glasses, lighting fixtures, and Pop Art-inspired pieces in the hopes of taking home the $60K prize (plus an artist residency).
The show is back with 10 new contestants and expert guest judges — including ​Queer Eye​ star Bobby Berk. Will someone yell at their poor assistant this season? How many pieces will break before they even make it to the annealer? Only one way to find out. ​Blown Away​ season two starts streaming today. We'll never take another glass-blown piece for granted.