It's been a huge week for newly inaugurated Vice President Kamala Harris, the first woman to hold the country's second most powerful position. But there is one thing missing — Harris won't be moving into the official VP residence, Number One Observatory Circle, quite yet, according to the ​Washington Post​.
Located on the grounds of the U.S. Naval Observatory in Washington, D.C., about two miles from the White House, the 1893 Queen Anne–style home has been occupied by seven VPs (and their families) thus far, including President Biden, the ​Post​ reports. Given its respectable age, it is currently undergoing maintenance for an undisclosed period of time. Until the repairs are complete, Madam Vice President won't be able to move in, the ​Post​ writes. The space's features include chandeliers that "are replicas of the turn-of-the-century gasoliers that formerly adorned the room," according to its official website.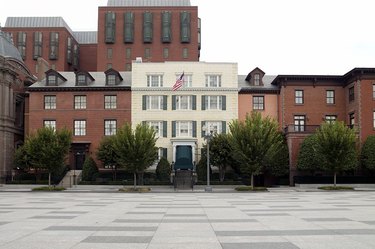 In the meantime, Harris will live at Blair House, a residence located just across the street from the White House that's typically used for guests of the President. Though she already owns a home in D.C., as she's served as a senator since 2016, it's apparently not up to the Secret Service's snuff, per ​CBS News​​.​
When Harris finally moves into the official VP residence, we're curious to see if she'll renovate or make additions.
---
Stefanie is a New York–based writer and editor. She has served on the editorial staffs of Architectural Digest, ARTnews, and Oyster.com, a TripAdvisor company, before setting out on her own as a freelancer. Her beats include architecture, design, art, travel, science, and history, and her words have appeared in Architectural Digest, Condé Nast Traveler, Popular Science, Mental Floss, Galerie, Jetsetter, and History.com, among others. In another life, she'd be a real estate broker since she loves searching for apartments and homes.
View Work