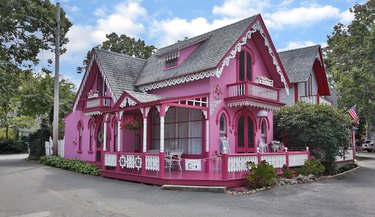 If you prefer to "think pink" and wear rose-colored glasses, you might want to consider moving to Martha's Vineyard. There, you will find a Victorian cottage that looks like it was modeled after a bright pink wedding cake, complete with intricate white icing.
Known as "The Pink House," the home was built in 1870 and, according to ​Boston Magazine​, is amongst 312 other cottages that are part of the Martha's Vineyard Camp Meeting Association. In 2017, the 787-square-foot property was renovated. It currently includes two bedrooms, one bathroom, a new kitchen and appliances, refinished pine floors, repainted tongue and groove walls, a picture window that lets in plenty of light, gothic double doors, a side balcony with a stained glass window, a brick patio, and a stone alleyway.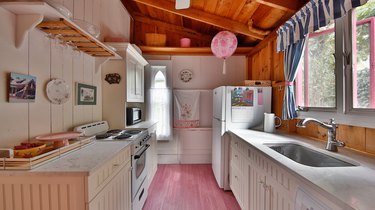 The only potential downside to living in this dreamy home is that you'll get a lot of sightseers. "We joke that when we purchased the pink house, we didn't know it would come with friends," the homeowner, who is only moving seven doors down, tells ​Boston Magazine​. However, if you're a tried and true people person, this is definitely an upside.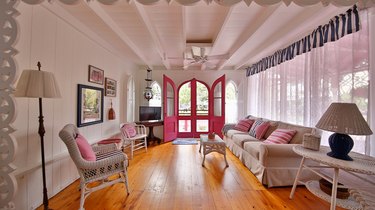 For $635,000, according to Anchor Realty, this fairy tale home is being sold turn-key, including artwork. For an additional $125 per year, you can also snag a leased parking space within the Martha's Vineyard Camp Meeting Association. Though, the parking spot might not be necessary, since the area is highly walkable. It's only an 11 minute walk away from the beach!
Just imagine how jealous Barbie will be.