This is an exciting week for President-elect Joe Biden and his wife, Dr. Jill Biden. However, due to the coronavirus pandemic, this presidential transition is going to look different than it normally would.
Prior to the Bidens moving in, the White House will have to be deep-cleaned to protect the new residents from possible coronavirus transmission. In fact, according to ​The New York Times​, Biden and his family were recommended to continue their stay at the president's official guest house, Blair House, instead.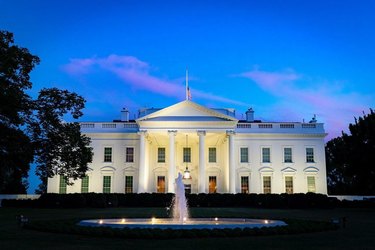 In addition to extra cleaning procedures, the Bidens will also have to put a pause on redecorating the White House. Instead, when they move in on January 20, they will be bringing the bare minimum with them while waiting to personalize their new home — the 16 rooms and six bathrooms on the White House's second floor.
While the Bidens will have access to the White House Historical Association's collection of items and room layouts, we do have an idea of how they might prefer to decorate. An Instagram video gives us a peek inside a room in their home, which is filled with medium and dark woods, brown leather couches, gold accents, and plenty of books, photos, and memorabilia.
We can't wait to see how the Bidens actually end up making the White House their home, even with the pandemic delaying their decorating plans.