With all good change comes opportunity, and interior design is no exception. To celebrate the inauguration of President Biden and Vice President Kamala Harris, we asked a handful of interior designers to reimagine the Oval Office under a Biden presidency. From Obama-inspired decor elements to furniture that pays homage to the women's suffrage movement — here's how five designers say they would revamp the President's formal workspace.
"In a divided America, Joe Biden's message about the United States is more evident than ever. Taking cues from this meant expressing unity in diversity, being respectful of the Oval Office's history, and looking forward to a new togetherness. The forms and fixtures are a nod to the historical and traditional nature of the White House, with a contemporary feel that speaks to a new administration. We carefully selected pieces that relate to tradition while bringing in a feminine touch to acknowledge and celebrate the United States' first female Vice President."
"The mixed wood tones, metals, and fabric patterns bring in the notion of beauty in diversity. We were careful about picking pieces and fabrics where the forms and motifs were a subtle nod to Kamala's heritage and celebrated cultures and brought in references from Eastern art. The color palette primarily plays with hues of blues, with contrasting golds and warm neutrals. The contemporary twist in the space is the artwork that adds a bold, almost unexpected punch of color by Black artist Muzae Sesay. Muzae is a young and upcoming Oakland-based artist celebrated for his use of dynamic color and bold imagery that is evocative of his childhood in Sierra Leone. We felt that this was a very authentic way to evolve the Oval Office into a true representation of American diversity with this new and dynamic administration."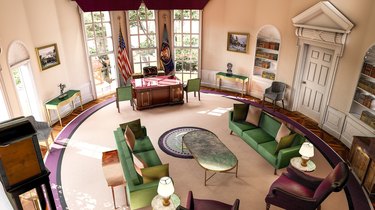 "The strength and traditionalism of the Oval Office is something I felt very strongly about preserving. I integrated the color green into the palette, as it is thought to relieve stress and promote healing. I opted for light mauve-colored walls to promote conversation and elevate the ambience, then added a bold red valance over the historic Resolute desk to represent the strength of the American flag."
"Historically, the Oval Office has been a symbol of authority and power of the US presidency. Changes to the office often allow the president to subtly signal certain political leanings and commemorate the historical figures they admire. For this design, I imagined that Joe Biden would like to commemorate both FDR and President Obama. I picked those two presidents because Biden has been compared to FDR, given he was also president at a time of record unemployment and economic despair, and I wanted to honor President Obama for choosing Biden as his running mate years ago."
"I leveraged FDR's Oval Office green theme, including his drapery and a White House treasure, the 1900s styled 'Resolute' desk. FDR requested the desk to be installed but didn't live to see it within his Oval Office. Building off the 1852-1900s style of the Resolute desk, I began to think about midcentury furniture with emerald, gold, and navy-blue tones. I wanted the office to feel authentic to Joe Biden's personality but modernized. Joe Biden's favorite movie is ​Chariots of Fire​, made in 1981, so I began to be inspired by the specific movie locations and how ornate but classic they were. The cream furniture within this design is inspired by Obama's previous Oval Office."
"I added the mid-19th-century pink chairs as a nod to Vice President Kamala Harris and her beloved Alpha Kappa Alpha Sorority. I'm also a member of the sorority and wanted to showcase the new femininity entering the White House. The beautiful modern art piece is by Delaware artist Mary Page Evans, Joe Biden's friend, whose works they hung in his previous residence as a vice president. Lastly, I added a 1967 Corvette Stingray figure as an accessory, as Joe Biden loves his car!"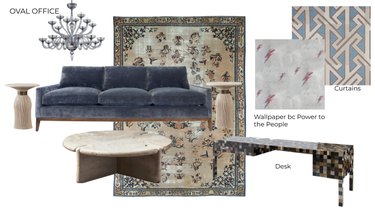 "My reimagined Oval Office packs a punch. The lightning bolt wallpaper conveys the power of the people that elected the president. The vintage sofas mixed with the antique rug and the re-issued new side tables represent the past and present that the president carries with him daily. The custom handmade desk is a reminder of the small business owners of America. The blend of styles and genres of the pieces reflects the melting pot of what America looks like today."
"I feel the country is pivoting towards inclusivity. I envision an all-white Oval Office representing the new female Cabinet members paying homage to women's suffrage. Accents and pops of color that focuses on pinks for Kamala Harris' Indian heritage, and for healing the nation, and greens to heal the world for sustainable living, and to offset climate change."
"Transitional furniture that represents America, young and old. Photographs of those in the 20th and 21st Century that keep moving us forward. Because it's about now. We all need to work together because we're one race … the human race."