This year's Consumer Electronics Show (CES) took place online, with a variety of panels on everything from the smart home to health. Lots of talk centered around our current lives in light of COVID, with many panels discussing how hygiene is now top of mind for tech-forward shoppers. As we spend more time at home, how we shop will continue changing — not just on a small scale, but also when it comes to the appliances and gadgets we want to invest in.
Check out some of the products that caught our attention during this year's all-virtual CES, from a relaxing bath to an intelligent home assistant.
1. A bathtub that's a spa experience.
Stressed about, well, everything? Kohler unveiled the Stillness bath, inspired by "Japanese forest bathing, or shinrin-yoku,"to create a "a sanctuary for self-care and wellbeing," according to a press release. It comes with a wood mote and features like fog, full spectrum lighting, and an essential oil emitter. You can currently hit "notify me" on the site to learn more about when it's available
2. A fridge that does it all.
Samsung's BESPOKE line of refrigerators now includes a four-door option with lots of bells and whistles. There's a built-in water pitches that fills up on its own; a "flex zone" that lets you choose five different modes for fridge temperature; and two different sizes for the ice cube machine. The fridge won't be for sale until later this year in the U.S. but we're excited already.
3. A shower head that plays music.
Love singing in the shower? Kohler wants to make the experience easier with a new Moxie shower head that uses a magnetic, waterproof speaker. It boasts nine hours of play time per charge and you can remove the speaker and take it with you anywhere you go. The bluetooth version retails for $308.30 or you can get a built-in Alexa edition for $411.65.
4. A totally wireless TV.
Russian company Reasonance has unveiled a TV without cords. Using magnetic and field energy, the Reasonance system can actually be applied "any device that uses electrical power and wires," according to a presentation by the company. Is the end of pesky wires closer than we thought?
5. A high-tech vacuum cleaner with object recognition.
Cleaning feels a lot more futuristic with the JetBot 90AI+. It uses 3D sensors, LiDAR (Light Detection and Ranging), artificial intelligence to avoid any items that might be in the way of its cleaning (including wires!). It also comes with Wi-Fi and a built-in camera so you can monitor the space no matter where you are. It empties its dustbin automatically, too. It will be available in the U.S. some time in 2021.
6. A high-tech assistant for your at-home needs.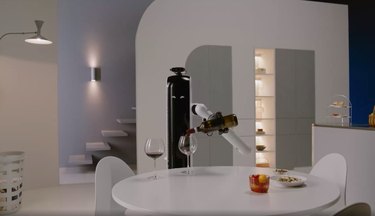 The Samsung Bot Handy is currently in development but it seriously looks like something out of a sci-fi movie. The high-tech assistant can "recognize and pick up objects of varying sizes" but also learn your schedule and needs. A video for the product even shows it pouring wine and placing a flower into a vase. How thoughtful! (We think?)
7. A face shield that's serious business.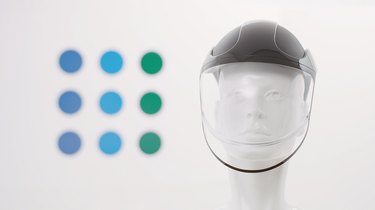 Start-up named Seguro has created Airsafe, a face shield that "uses advanced HEPA filter technology to remove 99.97% of impurities as small as .3 microns from the air you breathe," according to a press release. Designed so that you can communicate without having parts of your face hidden, the shield also uses "a powerful fan" that "purifies the air, then delivers it as a clean curtain of fresh air to the nose and mouth." It currently retails for $99 and the brand says to visit its website to stay up-to-date on a crowdfunding campaign starting in February.