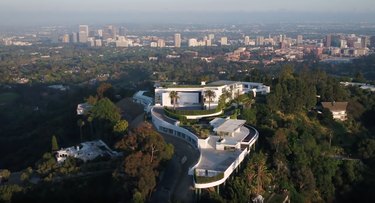 What is "the world's most expensive home"? That would be The One: a 105,000-square-foot Bel Air mansion that's being sold for $340 million, according to an exclusive ​Architectural Digest​ article.
Set on five acres of land, the Los Angeles home features 21 bedrooms, 42 bathrooms, a 30-car garage, a 30-seat movie theater, a four-lane bowling alley, a spa, five swimming pools, a 10,000-square-foot sky deck, a custom tequila bar, and a "philanthropy wing" for hosting charity galas for a max of 200 people. It is also surrounded on three sides by a moat and a 400-foot-long jogging track, making the property look like it's floating above Los Angeles.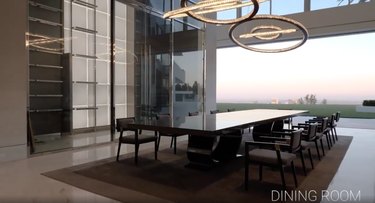 The owner, developer Nile Niami, collaborated with architect Paul McClean, interior designer Kathryn Rotondi, and 600 workers to make this home what it is over the course of eight years. To allow the home's 360-degree views of the San Gabriel Mountains, downtown L.A., and the Pacific Ocean to truly shine, they mainly stuck to a palette of white, gray, and black, and a style of Los Angeles modernism.
Within its 26-foot-high ceilings, The One also houses an art collection courtesy of Creative Art Partners and Art Angels. In fact, right when you enter the home's foyer, you will be greeted by a rotating white sculpture by the artist Mike Fields. The entry also, casually, features a bridge and is filled with water. Because why not?
What's perhaps most interesting about The One is that it is ​actually​ one of a kind. Going forward, due to new Los Angeles laws, no one will ever again be able to build a house of this size. So whoever buys the property for $340 million — you can apply via this Google Doc — can truly say that they found "the one."