Need a little color pick-me-up this winter? Sherwin-Williams' new Living Well collection of paints will have you ready to redo your entire house. Not only does the collection include 11 different color palettes designed to make you feel good, but it also includes paints with bacteria-killing and air-purifying technologies. Yes, you read that right!
"The paint has the power to kill 99.9% of Staph (Staphylococcus aureus), E. coli (Escherichia coli), MRSA (Methicillin-resistant Staphylococcus aureus), VRE (Vancomycin-resistant Enterococcus faecalis), and Enterobacter aerogenes on painted surfaces within two hours of exposure, and continues to kill 90% of bacteria for up to four years when the integrity of the surface is maintained," Rick Watson, Director of Product Information and Technical Services at Sherwin-Williams, tells Hunker.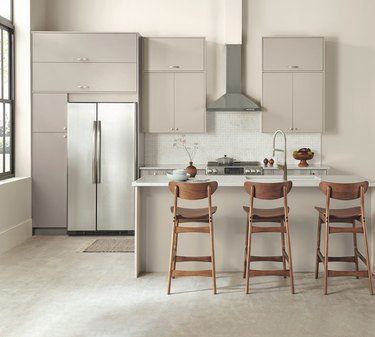 The SuperPaint® with Air Purifying Technology, on the other hand, actually transforms icky airborne volatile organic compounds (VOCs), which are found in many homes, into harmless water and inert gas molecules. And it even neutralizes common household odors by deconstructing carbon molecules.
The colors included in the Living Well collection will help you live well, too.
"My team of color marketers and I gathered all the colors that we attribute to these 'soothing' categories, including light hues, whites, mid-tones, neutrals, and soft colors," Sue Wadden, Director of Color Marketing at Sherwin-Williams, tells Hunker. ​"​Nothing in the palettes is too dark, vibrant or bold. From there, we started curating the collections together by inspiration — themes like nature-inspired, ethereal whites and bright tones, watery tones, warm neutrals, cool neutrals, etc."
In short, every paint in the Living Well collection is basically guaranteed to improve your quality of life at home, whether through sanitizing and purifying technologies or through color psychology.
"Due to the unprecedented events of 2020, our homes have expanded to become offices, schools, gyms, and beyond. They are working harder for us than ever before so, by nature, we are mindful of the impact these spaces have on us and our loved ones," says Watson. "We want to practice living well in all aspects of our homes, including the coatings we choose to put on our walls."
The Sherwin-Williams Living Well collection is available online and in stores.
---
Stefanie is a New York–based writer and editor. She has served on the editorial staffs of Architectural Digest, ARTnews, and Oyster.com, a TripAdvisor company, before setting out on her own as a freelancer. Her beats include architecture, design, art, travel, science, and history, and her words have appeared in Architectural Digest, Condé Nast Traveler, Popular Science, Mental Floss, Galerie, Jetsetter, and History.com, among others. In another life, she'd be a real estate broker since she loves searching for apartments and homes.
View Work