Once upon a time, a refrigerator was simply an appliance that kept your food cold to preserve it. Today, it's a high-tech marvel that does ​so​ much more than chill your meats and veggies.
Samsung has unveiled its latest masterpiece, a four-door fridge that's a new addition to its highly customizable BESPOKE line, and boy, are the bells and whistles shiny. The line made a splash by letting consumers customize the layout of the fridge — like choosing different colors for each door and pairing one large door with two smaller ones, plus many other combos.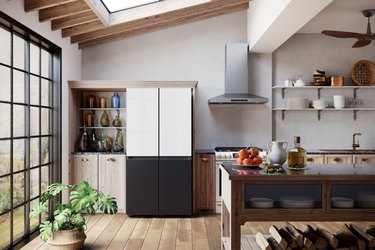 The new four-door option includes a high-tech "Beverage Center," which has your standard filtered water dispenser, plus a built-in pitcher that automatically refills with fresh, cold water. There's also a "Flex Zone" with five different modes that can switch between fridge and freezer duties, depending on your storage needs. And you get two ice options: cubed ice or ice bites (for smaller pieces).
Tech aside, the draw to the BESPOKE line is its design versatility. Not only can you pick the colors, materials, and finishes to suit your kitchen's decor style, you can also customize the interiors with different compartment layouts.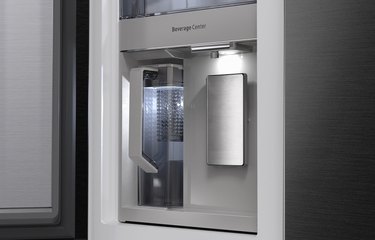 "As families spend more time at home — and in the heart of the home, the kitchen — they're investing in home appliances they can personalize, which is exactly what our BESPOKE lineup offers," John Herrington, Samsung's Senior Vice President and General Manager of Home Appliances, said in a statement.
The appliance will available for sale in the U.S. later this year. Suddenly, our boring two-door fridge from who knows what year is looking a little shabby.