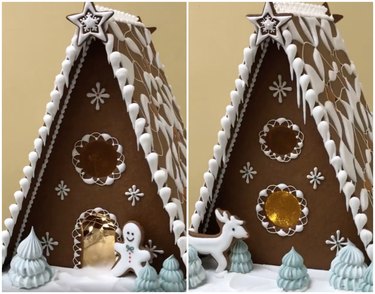 If you've ever wanted to create a gingerbread house fit for royalty, now is the time. Over on the royal family's Instagram, their chefs just shared both a video and recipe outlining how to make a gingerbread house that's fit for a queen — literally.
Surprisingly, the royal chefs' gingerbread dough recipe is quite simple and involves ingredients you likely have at home: strong flour (aka bread flour), baking soda, ground ginger, ground cinnamon, unsalted butter, light brown sugar, an egg, and golden syrup. The ingredients do call for metric measurements, but those can easily be adapted using a recipe converter.
The royal chefs also include a handy-dandy gingerbread house template in their recipe, which features five simple shapes. To make the windows, you can use crushed hard candy that will melt while the dough bakes. Afterward, the house can be decorated and assembled using a three-ingredient royal icing recipe, which contains lemon juice, egg whites, and powdered sugar.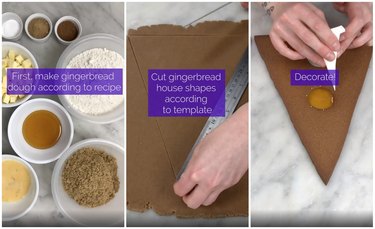 "For piping decoration works, loosen icing with some water," the royal chefs write, providing us with our new favorite dessert decorating tip.
To watch the royal chefs create their very own gingerbread house, click here.
---
Anna is a Los Angeles-based writer and editor who covers lifestyle and design content for Hunker. She's written for Apartment Therapy, the L.A. Times, Forge, and more. She previously worked as the lifestyle editor at HelloGiggles and deputy editor at So Yummy. Her email: anna.gragert@hunker.com