In 2020, our homes have become an even more significant part of our lives. Just how significant, you ask? IKEA has the answer. As part of its Big Home Reboot campaign, the company released its annual Life at Home Report examining how 2020 has affected our relationships with our homes.
After virtually connecting with 20 households, speaking with experts, and surveying 38,210 people from around the globe, IKEA found that many people are enjoying certain home activities more than they have before.
In the U.S. specifically, 40% of people enjoyed spending more time with family and 38% liked eating more family meals during lockdown. 47% of people also reveled in more time spent cooking.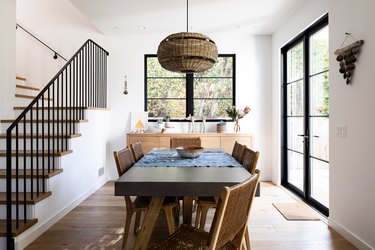 Yet, there are still aspects of their homes that people would like to change in the future. For instance, 33% of Americans stated that, based on life in lockdown, they would like a bigger kitchen. Globally, 38% of people would like a space to pursue hobbies, 33% want an environment to both study and work in, and 35% yearn for an outdoor space or private garden.
Based on the data they've collected in the last seven years, IKEA has determined that there will be three major shifts in our lives at home. Firstly, spaces will become more multipurpose, leading to a change in how our rooms function. There will also be an increased reliance on our communities, local services, and accessible support and social networks. Lastly, our focus on wellbeing and health will expand in the home, making nature-filled, hygienic interior more popular.
With all of this in mind, one thing is for sure: 2020 has forever changed how we view our homes. As a result, from architecture to interior design, we can expect a lasting impact from this year.