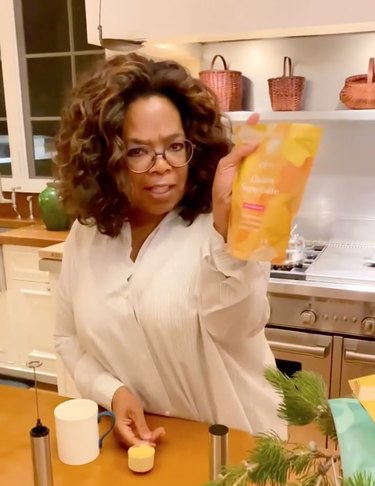 Thanks to Oprah, we now know exactly what Meghan Markle, Duchess of Sussex, is gifting her celebrity friends this holiday season. "On the first day of Christmas my neighbor 'M' sent to me...a basket of deliciousness! (Yes that M 👑)," wrote the iconic talk show host in the caption of her latest IGTV post. While she didn't name the Duchess of Sussex specifically, they both live in Montecito, California, and the crown emoji pretty much confirms it.
In the accompanying video, Oprah can be seen with a holiday basket featuring fruit, pine branches, and several varieties of Clevr SuperLattes: oat milk lattes made with mushrooms, adaptogens, and probiotics. In her gift bundle, Oprah specifically received the Matcha SuperLatte, Chai SuperLatte, and her "new favorite" Golden SuperLatte (a turmeric and spice blend). Each is $28.
"My new drink of choice for the morning and night," writes Oprah. "Wish I had @clevrblends sooner 'cause I would've added it to my Favorite Things list."
It looks like Markle also gifted Oprah the Clevr Frother ($18). In the video, you can see Oprah using it while she creates her Golden SuperLatte (which only requires water).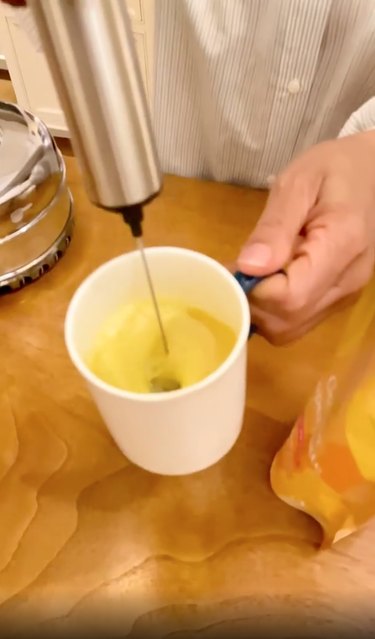 So if you want to gift like Meghan Markle this holiday season — or get ahead of Oprah's 2021 Favorite Things — the Clevr SuperLattes are a must.