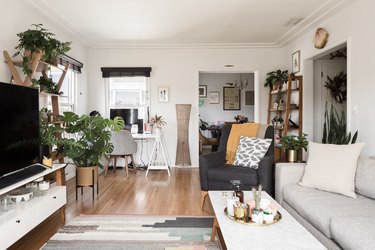 While 2020 has been a wild year all around, it's been a particularly chaotic one for the real estate market — and especially for rentals. Now that we're nine months in, we can start to see some significant trends.
Real estate site Zillow has just released survey results about the current state of the rental market as it relates to young adults. Here are some of the biggest takeaways.
Renters aren't moving from the city to the suburbs and vice versa.
Though there's been plenty of media attention on the supposed exodus from the cities to the suburbs or rural areas, it turns out that's not really the case. Renters, in particular, are typically staying put in the same type of residential areas in which they were previously living. According to the Zillow survey, "Three quarters (74%) of participants whose former home was in an urban area moved to an urban rental. Most suburbanites (71%) stayed in the suburbs. But a smaller majority (57%) of rural dwellers moved into a rental in a rural area."
More than half of renters report that they're paying more in rent than they were before.
There's no doubt the pandemic has wreaked havoc on the financial sector, but that isn't stopping renters from upgrading. Per the Zillow survey, 51% of renters who have moved recently are paying ​more​ than they were previously. Just 36% are paying less. Because so many landlords are offering concessions (e.g., incentives like free months), renters are using the opportunity to trade up to a better apartment. "[T]hey may be spending more, but clearly some may feel like they're getting more for their dollar," said Zillow.
Sanitation services are key to attract renters.
Perhaps unsurprisingly, sanitation is front of mind for renters. "When asked which features and services make a rental safer, renters most often cited air filters being cleaned or installed (75%) and increased cleaning and sanitizing of common areas (75%)," Zillow reports. Other appealing safety measures include mandating the wearing of masks in common areas and restricting capacity in common areas like gyms and pools.
---
Stefanie is a New York–based writer and editor. She has served on the editorial staffs of Architectural Digest, ARTnews, and Oyster.com, a TripAdvisor company, before setting out on her own as a freelancer. Her beats include architecture, design, art, travel, science, and history, and her words have appeared in Architectural Digest, Condé Nast Traveler, Popular Science, Mental Floss, Galerie, Jetsetter, and History.com, among others. In another life, she'd be a real estate broker since she loves searching for apartments and homes.