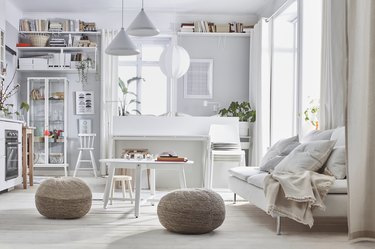 2021 is bound to bring new changes, and we already have a major, decor-related one to add to the list. IKEA announced today that after 70 years, it will no longer produce its iconic catalog.
We often looked to the yearly publication for interior inspo and trend predictions. Flipping through and circling our favorites, or folding the corner of the coolest pages became an activity to look forward to for IKEA fans everywhere. According to the press release, 2016 was the strongest year for the catalog, with 200 million copies produced in 32 languages. When it first launched in 1951, only 285,000 copies were created, showing how the catalog really became a part of the zeitgeist.
But the Swedish retailer says that it's time to move on. It will, instead, bring the same home inspo using "existing and new exciting tools." The retailer also explains that there's been a spike in people shopping online; and it's also launched new apps to make the experience easier.
The move makes sense in light of IKEA's effort to be more eco-conscious. If you're feeling nostalgic, you can browse some of the older (Swedish only) catalogs here.