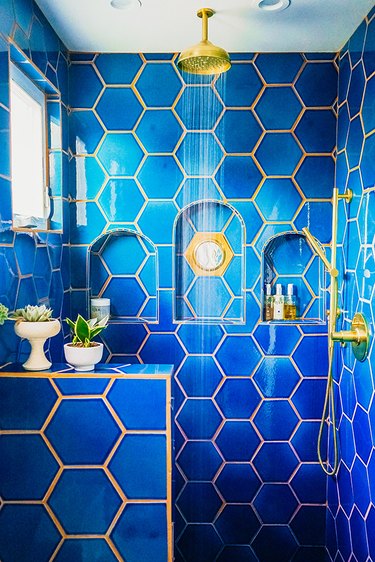 Blue is pretty much the interior design standard-bearer when it comes to soothing shades, and nothing looks quite as cool or on-trend as blue tile in a shower. Depending on the shade of blue, the color has the ability to create a calming, spa-like atmosphere or an energizing morning retreat in your bathroom.
Like everything else in your bathroom design, there are some things to consider when pondering blue shower tile. Unless you want to commit and go floor-to-ceiling blue with the look, you'll need to temper the shade with white or another neutral. Also, as with any colorful tile, if you chip it, the white surface underneath will show, and it can be tough to fix.
From mosaic tile to subway tile, blue is a great way to bring saturated color into a bath without going ​too​ vibrant, since it's generally an easy-going, relaxed hue. Ready to makeover your bathroom? Here are nine ideas to inspire you.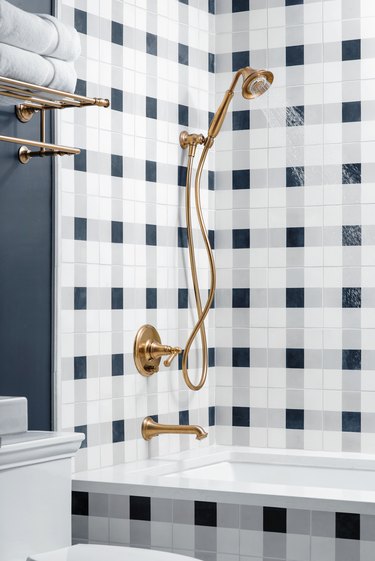 Maybe a blue and white palette appeals to your senses a bit more than straight-up blue. In that case, think about a plaid pattern for your shower tile, which is what Caitlin Wilson accomplished in this bath. The checkered look is ideal for a farmhouse or vintage-inspired setup.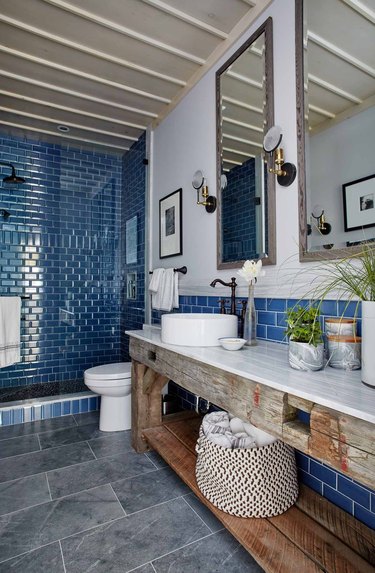 Navy has been having a moment for the past few years, and shower tile is no exception. We especially love the bold shade in this subway tile clad shower by Sarah Richardson Design. She even carried it over to the tile backsplash, which makes for cohesive aesthetics throughout.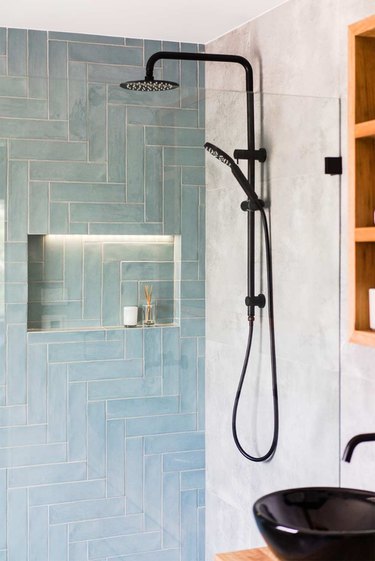 If the goal is to make your shower as peaceful as possible, look to a light blue bathroom tile with a matte finish, like the rectangular option seen in this design perfected by Galit and Leah of Just in Place. The white tile on the adjacent walls distracts as little as possible, while subtly framing the colorful accent.
4. Use varying shades of blue.
5. Make it a major decor moment.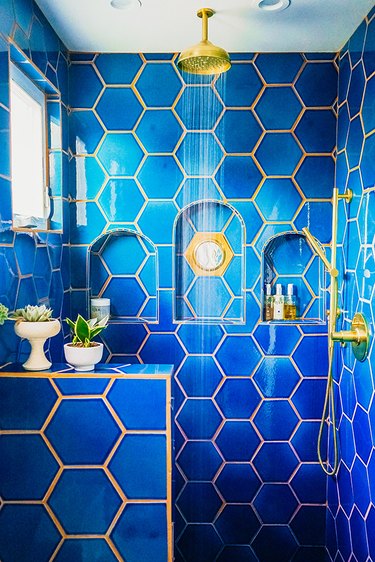 Leave it to none other than Jungalow's Justina Blakeney to turn her shower into a decor-infused paradise. Outfitted in hex porcelain tile, the attention-grabbing blue shower also displays brass fixtures and potted plants. Even the yellow grout serves as a decorative touch on the bathroom walls.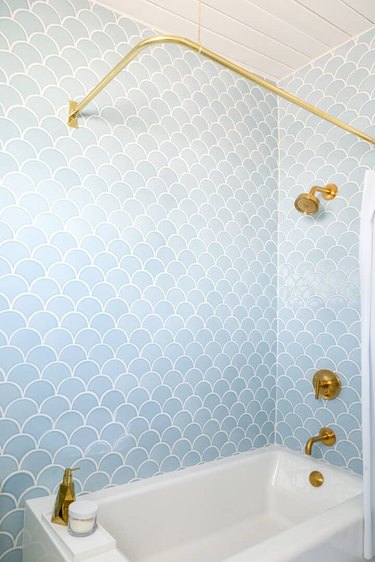 We're here to tell you that you don't have to go with traditional, saturated blue tile in your shower. Instead, go with the softest whisper of baby blue, something that Emily Henderson used to punctuate her entire bathroom design. This color would also work beautifully as an accent wall.
7. Unexpected shapes are eye-catching.
Perhaps you're aiming for a midcentury look in your bathroom or an atmosphere that simply feels unique. Here, you'll want to choose blue tile for your shower in a one-of-a-kind shape, à la the triangles used in this bath belonging to Thalita of The Learner Observer. It pairs up flawlessly with the white penny-tile shower floor.
8. Glass perfectly showcases blue tile.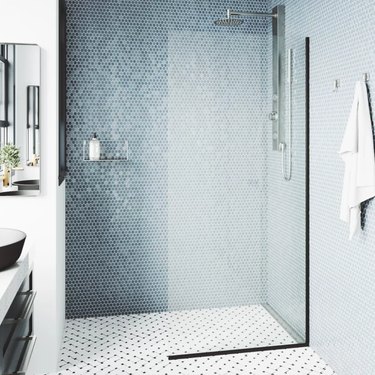 Do you want your blue penny round tile to steal the spotlight in your bathroom? Then we recommend glass shower doors, as seen in this tranquil design showcased by Wayfair. And if you want to anchor the look even more, you could also carry the blue tiling over to the backsplash or up to the ceiling.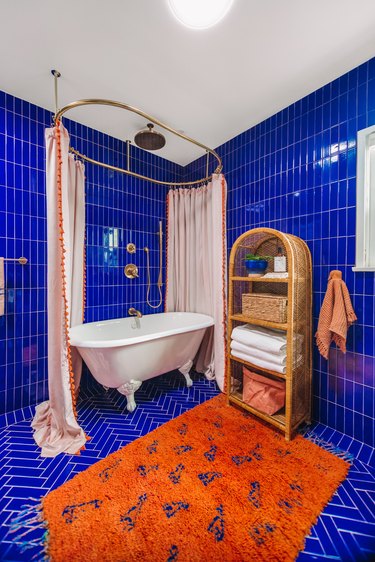 If you really, really, really love blue, we say go all-in with cobalt blue tile. That's exactly what Kelly of Studio DIY did in this bathroom, with wall and floor tiles that show off an oh-so-saturated shade and punctuate the bathtub-meets-shower area. The vibrant orange rug and white accents help balance the bold design idea.