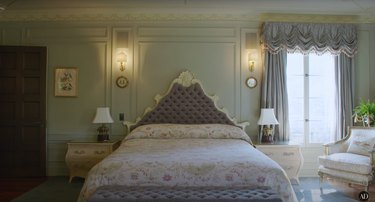 When it comes to famous, luxurious properties that are on the market, we love being nosy. So as you can imagine, we are huge fans of ​Architectural Digest's​ "On The Market" YouTube series, in which we get to take a peek inside homes like those of actress Bridget Fonda and composer Danny Elfman, who created the scores for 16 Tim Burton films.
Fonda and Elfman's 114 Freemont Place, Los Angeles mansion is currently for sale along with the property's complementary guest house, which can be accessed through the main residence's backyard. Together, both properties are listed for a cool $14.6 million and when you see the interiors, you'll know why.
Inside the 1920s, Mediterranean-inspired, 6,300-square-foot main house, there are six bedrooms and eight bathrooms that underwent a $3 million renovation and restoration. There is also a ballroom/art gallery/screening room that contains one of Tim Burton's gifts to Elfman: a ​Charlie and the Chocolate Factory​ Oompa Loompa collectible.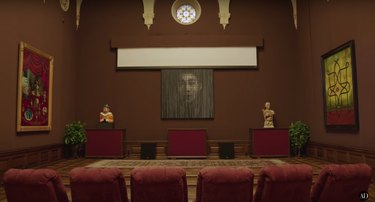 In the guest bedroom of our dreams, there is Fonda family heirloom furniture and 1920s "wedding cake" details on the ceiling and walls — the latter of which is covered in a soothing light blue-green hue. Imagine how soundly you'd sleep in this room.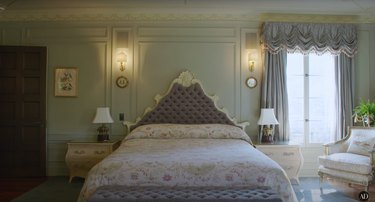 All around the home, there are countless interesting objects to look at: vintage taxidermy and skeletons, antique toys, and goods collected from around the world. But perhaps the most interesting room in the whole home is Danny Elfman's intimate music studio, which can be accessed via a secret door in the backyard.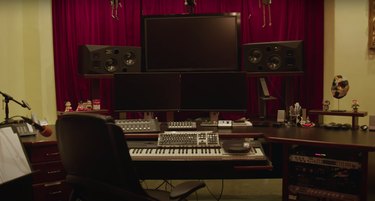 The couple's guest house at 75 Fremont Place is just as spectacular as the main home. It's a 1960s, original midcentury modern property that was completely restored by Fonda. Inside, there is a fully functioning 1970s bar.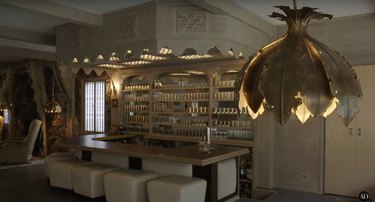 The kitchen is a yellow ode to midcentury modern design.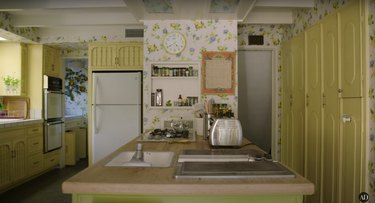 What used to be a bedroom has since been converted into Fonda's over-the-top office with emerald green walls and a leopard print carpet. Inspired by legendary American artist Tony Duquette, Fonda wanted the entire guest house — but particularly her office — to pay tribute to the art of maximalism.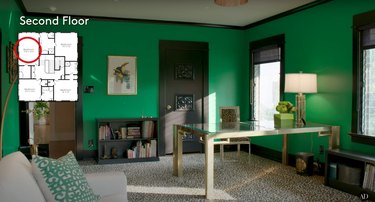 If you have $14.6 million lying around and love history, quirky objects, and Hollywood legends, this might just be the place for you. You can watch ​Architectural Digest's​ video on this one-of-a-kind listing here.