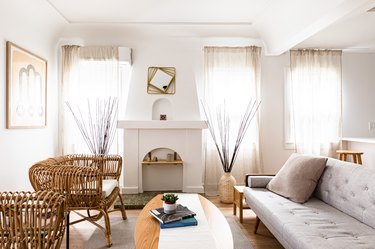 Planning to move in 2021? You're definitely not alone. According to the 2020-2021 American Migration Report by self-storage website Neighbor — which surveyed more than 1,000 Americans — 56% of participants plan to move in 2021. The number is significantly up from just 35% in 2020. (And that doesn't count the 9% of respondents who moved in 2020 ​and​ plan on moving again in 2021.)
Unsurprisingly, the coronavirus pandemic has completely upended the real estate market. There's been a move from major cities into the suburbs and beyond, largely due to the fact that people simply want more space while they're homebound during lockdown. According to the Neighbor report, 40% of movers are leaving large cities for smaller communities.
Beyond that, the year has been something of a financial mess, too, which could be why 47% of people are moving to lower their cost of living, per the report. Other movers are looking to be closer to family (30%), while some are simply moving because their job no longer requires them to be location-specific (19%).
Curious to know what else Neighbor discovered? Check out the full report here.