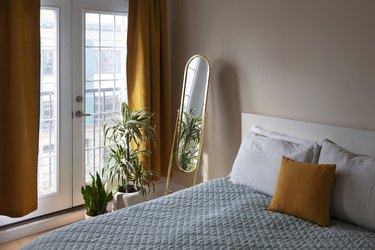 The pandemic has hit the real estate rental market hard, but there's a silver lining. As supply continues to outpace demand, more and more landlords are responding to the surplus of available units by offering an assortment of handouts to renters. Don't believe us? From free rent to shortened lease terms, to in-unit amenities, here's what deals real estate experts say renters can score right now.
If you live in a big city, then chances are you've had to pay a finder's fee to secure an apartment in the past. However, as the pandemic rages on and renters are fleeing their urban dwellings, landlords are increasingly offering to pay broker's fees on behalf of prospective renters. "Typically in the Manhattan rental market, many of the costs, including the broker fee, could be passed along to the tenant, and the tenant would have to pay it," explains Steve Gottlieb of Warburg Realty. "But today, as vacancies increase and inventory builds, landlords are covering a lot of these costs, and that includes broker fees."
While comping a month of rent was a tool sometimes used by landlords to attract renters to empty apartments prior to the pandemic, real estate experts say it's become mandatory in today's market. "Tenants are now in a position to ask for concessions, like months of free rent," Gottlieb explains. "For a landlord, in order to keep the rental price up and thus not set a precedent for a lower rent for years to come, it's often wise to agree to a month or two of free rent in exchange for a higher lease price."
3. Negotiable Lease Terms
Along with offering free rent, more and more landlords are allowing renters to negotiate the terms of their lease in order to get their units filled. "As the real estate market has been inundated with rental properties, the tenant has more leverage in negotiating both the price and the terms," agent Marilyn Blume of Warburg Realty explains. "In addition to lower rent prices, renters can ask for a six-month lease instead of a one-year lease, as well as the option of allowing a 30-day written notice to break the lease."
With social distancing regulations and stay-at-home orders to adhere to, landlords are increasingly offering in-unit amenities — think washers, dryers, dishwashers, and even custom closets — without factoring the price into the rental fee. "In one of our most recent deals, tenants requested that the landlord install customized closets," Warburg agent June Gottlieb says. "We negotiated a credit for the closets, and the tenant agreed to take on the project of custom-fitting the master bedroom's closet, while the landlord retained pre-approval of design and materials before the tenant proceeded."
5. Lesser Security Deposits
Traditionally, landlords require tenants to pay a security deposit of one to two months' worth of rent before moving in, to cover the costs of future damages, cleaning, and any unpaid fees. However, in today's real estate market, agent Jeremy Kamm of Warburg Realty says some landlords are waiving security deposits to secure more renters. "We are seeing many landlords team up with companies to eliminate the need for large security deposits (or require significantly lower ones)," he explains. "The less money a prospective renter will have to dish out up front, the more likely they will be able to fill the unit."