Another day, another Kardashian-Jenner headline. Tomorrow, on November 5 at 12 p.m. PST, Kim Kardashian West (aka KKW) and Kris Jenner will be releasing a candle together. Called the KKW X KRIS Candle, the fragrance will be launched to celebrate Kris Jenner's 65th birthday.
"When we created the KKW X KRIS Fragrance and received such positive feedback from consumers, I thought the notes would make a perfect candle for the fall and winter seasons," writes Kardashian on the KKW Fragrance Instagram. "The fragrance really fills a room, and I'm excited to launch it in honor of my mom's birthday to celebrate the time we spent developing the KKW X KRIS scent."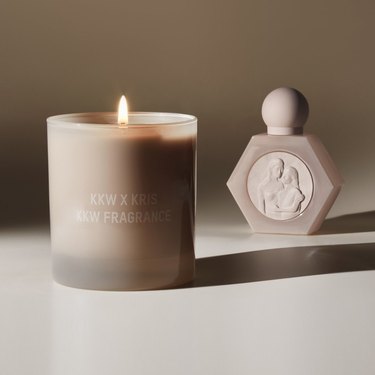 Just like the KKW X KRIS perfume, the candle will showcase a woody, white floral scent featuring night-blooming tuberose, freesia, tagete (a tropical herb), Aperol spritz accord, cashmere woods, and golden amber. Together, these notes are meant to make for a warm, inviting fragrance for the home.
Tomorrow, you can purchase the candle for $25 on the KKW Fragrance website. It even comes in a bundle with the perfume, which is priced at $60.