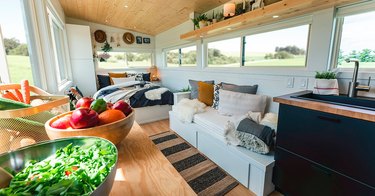 What do you get when you combine IKEA with the tiny home trend? A 187-square-foot abode that is sustainable, stylish, ​and​ affordable. The IKEA Tiny Home Project (in collaboration with Vox Creative and portable tiny home design studio ESCAPE Homes) was born to educate consumers on how they can incorporate sustainability into their lifestyles.
"It was a natural pairing," says ESCAPE Homes founder Dan Dobrowolski in the company's press release. "We feature many IKEA products in our various tiny home designs around the country, as they mirror the renewable, reusable, and recycled materials we incorporate into the actual structures."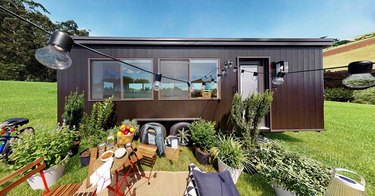 For this project, ESCAPE Homes was specifically asked to create a custom version of their Vista Boho XL home. The finished design features an exterior created using shou sugi ban, the Japanese technique of finishing and preserving wood using fire, sustainably grown pine interiors, energy-efficient lighting and windows, and solar panels. ESCAPE Homes designed the residence so that it can be transported anywhere and operate off-grid.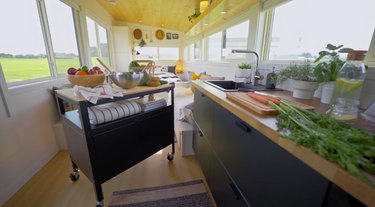 The IKEA Tiny Home Project illustrates that it is possible to live sustainably and affordably with style," says Dobrowolski.
You can take a virtual tour of the IKEA Tiny Home here, courtesy of ​Curbed​. If you're interested in learning more about tiny homes, ESCAPE Homes has several models you can virtually peruse.
---
When Anna Gragert isn't trying to create a groundbreaking third-person bio for herself, she's working as the senior lifestyle editor at Hunker. Her email: anna.gragert@hunker.com
View Work